BOYA Wireless Microphone x1
BOYA Wireless Microphone x1
ID: BY-XM6-S5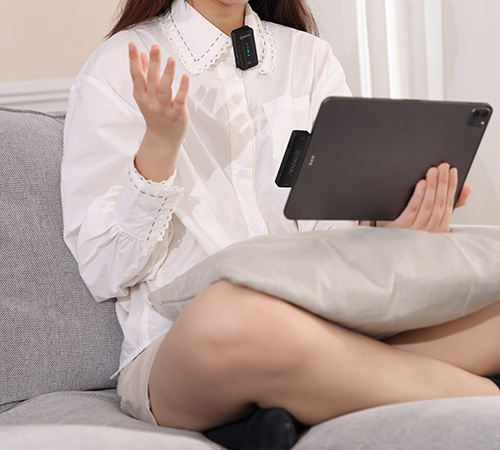 179

,00 €
144

,35 €
Visa Moms 0%
Visa Moms 24%
Webblager:

40 st
Beräknad leverans: 14.02
Produktspecifikation
Beskrivning
På lager i butiker
Leverans
Prisutveckling
BY-XM6 S5
Ultracompact 2.4GHz Dual-Channel Wireless Microphone System
- Dual-channel wireless microphone system that delivers high-quality sound
- Advanced 2.4GHz signal transmission technology delivers stable signals with a range of up to 100m without obstacles
- No extra APP or cables needed, the microphone can be connected automatically when powered on and plugged into the device
- Transmitters support up to 7h working time and build with an easy-to-read, vivid, and informative OLED display
- Receiver features Mono/Stereo output setting, headphone output and fits on the the USB-C port of smartphones, tablets, computers & iPad Pro or Air
- Included with omnidirectional lavalier mics and other complete accessories, it's a cost-effective choice

The BOYA BY-XM6-S5 is a 2.4GHz dual-channel wireless microphone system that consists of one transmitter and one receiver. It provides high-quality sound for mobile devices with USB-C ports. Ideal for vlogging, content creation, live streaming, recording, etc.

2.4GHz Technology Delivers High-Quality Audio
BY-XM6-S5 produces high-fidelity, professional audio by accurately reproducing tone across the 2.4GHz digital frequency. The system avoids interference from TV and radio waves by operating in the 2.4 GHz frequency band, which transmits stable and interference-free signals with a range of up to 100m. With a longer operation distance and a battery life of up to 7-hours, users can take wider and more expansive shots without fear of dropouts and have the ability to shoot for an entire day on one charge.

For Mobile Device with USB-C Port
The BY-XM6-S5 kit's receiver(RXU) is designed for mobile devices with a USB-C port. The transmitter can be connected automatically when powered on and plugged into the device. No extra cables, APPs or Bluetooth needed, just plug into the device and get started to work. Feature with a 3.5mm headphone output on the receiver, it lets you monitor the recording in real-time to ensure you sound great every time. The receiver also features a selectable Mono / Stereo output setting, allowing you to isolate each person's dialog and adjust each level individually in post-production.

An Incredible Wireless Microphone
With a vivid and easy-to-read OLED display on transmitter and receiver, users can adjust the signal transmission precisely. And the transmitter is designed with a built-in omnidirectional microphone, so users can clip the transmitter on the collar to pick up sounds, while they can also plug a lavalier microphone into the transmitter's MIC IN input jack for sound capturing. The BY-XM6 series comes with a complete set of accessories in each package, such as a lavalier mic and charging cables, which is a cost-effective choice.
Postens paketautomat
Beräknad leveranstid: 13.02
Postpaket
Beräknad leveranstid: 14.02
Till dörren-paket
Beräknad leveranstid: 14.02
Hempaket
Beräknad leveranstid: 14.02