Melitta CAFFEO Passione OT automatisk
Melitta CAFFEO Passione OT automatisk
ID: F53/1-102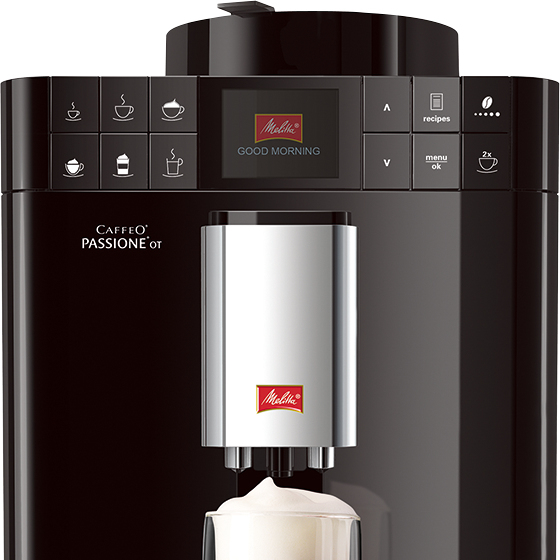 639

,00 €
515

,32 €
Visa Moms 0%
Visa Moms 24%
Webblager:
Beräknad leverans: 16.02 - 26.02
Produktspecifikation
Beskrivning
På lager i butiker
Leverans
Prisutveckling
Vikt & dimension
Vikt
8,3 kg
Höjd
390 mm
Bredd
253 mm
Djup
380 mm
Strömtillförsel
Energisparläge
Energiklass
A
Automatisk avstängning
Effekt
1450 W
Växelström Frekvens
50 - 60 hz
AC-inspänning
220-240 V
Ergonomi
Produktens färg
Svart
Upplyst strömbrytare
Kontrollampa
Kontrolltyp
Knappar
Inbyggd display
Skärmtyp
LED
Avtagbar bryggning / infusionsvätska enhet
Kopphållare med justerbar höjd
Prestanda
Vattentankens kapacitet
1,2 l
Självrengörande
Koppvärmare
Kaffebönskapacitet
125 g
Automatisk avkalkning
Front speaker type
15 Bar
Antal temperaturinställningar
3
Inbyggd kvarn
Kaffe ingångstyp
Kaffebönor
Mjölktank
Antal pipar
2
Mjölktank kapacitet
1000 l
Mjölkpåfyllnadssätt
Automatisk
Typ av kaffebryggare
Helautomatisk
Justerbar kaffestyrka
Produkttyp
Espressomaskin
Varmvattenanläggning
Tillagningsfunktioner och program
Latte-tillagning
Lungo tillagning
Cappuccinotillagning
Kaffe-tillagning
Espresso-tillagning
Latte macchiato tillagning
Ristretto tillagning
Varm mjölk tillagning
Americano tillagning
Tillredning av crema
EAN
4006508215485
Source: Icecat.biz
Latte macchiato, café crème, cappuccino, espresso, ristretto, lungo and much more – now you can have coffee specialities, frothed milk and hot water at the push of a button. Simply choose from 10 pre-set coffee specialities and enjoy delicious coffee and full flavour. The Melitta® Caffeo® Passione® OT also displays good taste with its elegant and compact design, there is space for it in every kitchen. The Caffeo® Passione® OT impresses with its intuitive ease of use and by the fact that it is hygienic and easy to clean.

MISSION eco & care
We have developed a label, which helps consumers choose an appliance that guarantees conscious enjoyment. The label uses a value system, which we have developed.

Best Aroma System
The Aromasafe® seal on the bean container means that the diverse flavours and aromas of your coffee beans are even better protected. The Bean to Cup feature means that only the amount of coffee beans you need are freshly ground and then the ground coffee is immediately brewed. The unique pre-brewing and extraction process (A.E.S.) ensures that the coffee flavour develops perfectly.

Compact construction, modern design
The Caffeo® Passione® OT sets new standards for compactness. The cubic form is visually impressive and is so compact that you can find the ideal place for it anywhere.

One Touch Feature
Whether you want one of the programmed varieties of coffee, warm milk, frothed milk or hot water - pour your favourite drink with just one touch.

10 varieties of coffee
Thanks to the product buttons you can call up the 4 classics - espreso, café crème, cappuccino and latte macchiato at the touch of a single button. Using the recipe feature you can create 6 further coffee specialities: ristretto, lungo, americano, espresso macchiato, café latte, café au lait.

Original Preparation Process
For coffee specialities prepared with the correct order of ingredients, in accordance with the original Italien recipes: So for latte macchiato the espresso ist added only after the frothed milk and milk. For cappuccino, the espresso is poured before the frothed milk.

TFT colour display
The high resolution TFT colour display allows for intuitive operation for maximum ease of use. The self-explanatory step-by-step instructions leaf you through the menu.

All In-One outletwith LED illumination
The All-in-One outlet with two nozzles for coffee, one for milk and milk froth, and one for hot water lets you prepare your favourite drink without moving your cup. The pleasant LED illumination shows your favorite coffee in the best light. Height adjustable to 135mm, even high latte macchiato glasses have enough space.

Double Cup Mode
Pour two fresh cups of coffee at once.

Easy Steam Cleaning
As well as the integrated programme to thoroughly clean the milk system, Easy Steam Cleaning means you can quickly and hygienically clean in between times: parts in contact with milk are cleaned with hot water and steam - if you prefer after every cup of coffee or call up separately using the menu.

Auto Clean & Descaling
The Caffeo® Passione® OT automatically indicates in the display when it needs to be cleaned or descaled. The cleaning or descaling programme is simple to call up in the menu..

Brewing unit can be removed at the side
The practical and user-friendly removal of the brewing unit makes it easy to clean. The interior of the machine can also be cleaned.

Energy saving feature
Equipped with a prgrammable energy saving mode, a programmable automatic switch off feature and a 0 watt switch to manually switch off, the Caffeo® Passione® OT has an up to date energy saving package.
Postpaket
Beräknad leveranstid: 16.02 - 26.02
Till dörren-paket
Beräknad leveranstid: 16.02 - 25.02
Postens paketautomat
Beräknad leveranstid: 15.02 - 25.02
Hempaket
Beräknad leveranstid: 16.02 - 25.02