D-Link JustConnect 16-Channel H.265 PoE Network Video Recorder
D-Link JustConnect 16-Channel H.265 PoE Network Video Recorder
ID: DNR-4020-16P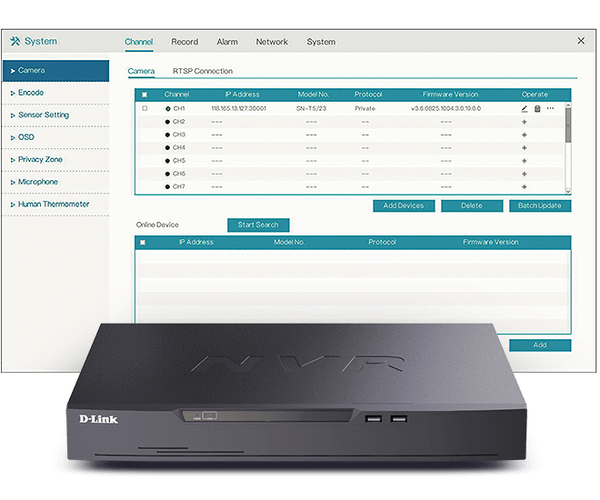 459

,00 €
370

,16 €
Visa Moms 0%
Visa Moms 24%
Inte tillgänglig för tillfället
Beräknad leverans: Okänd
Produktspecifikation
Beskrivning
På lager i butiker
Leverans
Prisutveckling
Systemkrav
Windows-operativsystem som stöds
Windows 10,Windows 10 Education,Windows 10 Education x64,Windows 10 Enterprise,Windows 10 Enterprise x64,Windows 10 Home x64,Windows 10 IOT Core,Windows 10 IoT Enterprise,Windows 10 Pro,Windows 10 Pro x64,Windows 10 x64
Anslutningar
Stöd för nätverksprotokoll
HTTP/HTTPS, RTP, RTSP, RTCP, SNMP v1/v2c/v3, IPv4, ARP, TCP, UDP, ICMP
Ljudutgång
3,5 mm
Kommunikationsstandarder
IEEE 802.3ab,IEEE 802.3u,IEEE 802.3x
Antal USB 2.0 anslutningar
3
Antal LAN (RJ-45) anslutningar
1
Uttag för mikrofon/linje in
Strömförsörjning via Ethernet (PoE) stöd
Antal HDMI-portar
1
Datahastighet för Ethernet-LAN
10,100,1000 Mbit/s
VGA (D-Sub) utgångsportar
1
Power over Ethernet (PoE)-portar kvantitet
16
HDMI-utgång
Vikt & dimension
Vikt
2,8 kg
Höjd
46,5 mm
Bredd
372 mm
Djup
310.5 mm
Strömtillförsel
Utgångsspänning
52 V
Uteffekt
5 A
AC-inspänning
100 - 240 V
Strömförbrukning (max)
143 W
Total Power over Ethernet (PoE)-budget
120 W
Power over Ethernet (PoE)-effekt per port
15 W
Miljökrav
Intervall för relativ operativ luftfuktighet
0 - 90%
Temperaturintervall (förvaring)
-20 - 70 ° C
Temperatur vid drift
0 - 40 ° C
Lagringsmedia
Hårddiskens gränssnitt
SATA
Hårddiskens storlek
3.5"
Antalet hårddiskar som stöds
2
Maximal lagringskapacitet
16 TB
Trådlös LAN
Wi-Fi
Prestanda
Maximal upplösning
3840 x 2160 pixlar
Ljudformat som stöds
AAC,G.711
Inspelningstyp
Event, Manual, Schedule
Uppspelningsläge
Backup selection, Forward, Frame by Frame, Play, Reverse, Stop
Antal fläktar
1 fläkt/-ar
Videoformat som stöds
H.264,H.265
PTZ-styrning (Pan / Tilt / Zoom)
Videoingångskanaler
16 kanaler
Larmingångskanaler
8
Larmutgångskanaler
2
Egenskaper
Produktens färg
Svart
EAN
790069455780
Source: Icecat.biz
IP surveillance in a box.
All-in-one solution that allows businesses to connect and power up to 16 cameras, and simultaneously record and view real-time video streams from a local network or remotely over the Internet.

All-In-One Solution
Standalone NVR solution with no need for additional computer or software

16-Channels
Simultaneously record and view real-time video streams from up to 16 cameras

PoE Capable
16 x 802.3af PoE ports with a total PoE power budget of 120 W

High Efficiency Video Coding
Support for the latest H.265 standard to significantly reduce bandwidth and storage requirements

Dual Bay SATA
Up to 16 TB storage with 2 x SATA 3.5" HDD interface, each supporting up to 8 TB capacity

User-Friendly Interface
Provides 16 channels of simultaneous live view, recording, playback, and PTZ control

JustConnect+ App
Mobile app allows easy and remote access on a mobile device

Automated Surveillance.
The DNR-4020-16P supports multiple recording modes including continuous, scheduled and event-based recording. Motion detection or sensors, such as on a door or window, connected to the Alarm In ports can automatically initiate event-based video recording.

User-defined scheduled recording and continuous recording will automatically overwrite the oldest footage to ensure the surveillance system continues to record the most up-to-date footage.

User‑Friendly Interface.
Manage your surveillance network of up to 16 cameras from an easy-to-use GUI that provides real-time monitoring and controls.

The flexible Live View options allow you to see multiple cameras simultaneously with the option to view a single camera on full screen with two-way audio support. Advanced search features help administrators to find the specific footage they need quickly.

Extensive Monitoring and Recording Features.
The DNR-4020-16P's intuitive interface allows for easy configuration including compression, resolution, and frame rate for all connected cameras. Support for multiple encoding formats provides administrators with the flexibility to prioritise storage space and video quality.

Remote Access with Computer or Mobile Device.
The DNR-4020-16P allows users to remotely view and manage the surveillance system over the Internet via the web, giving administrators access to live view, recording, playback, and camera control.

The free JustConnect+ mobile app allows anywhere access straight from your smartphone or tablet.
Postens paketautomat
Beräknad leveranstid: Okänd
Postpaket
Beräknad leveranstid: Okänd
Till dörren-paket
Beräknad leveranstid: Okänd
Hempaket
Beräknad leveranstid: Okänd