WOOX Smart LED Strip 5m RGB + Warm White, IP65 Certified
WOOX Smart LED Strip 5m RGB + Warm White, IP65 Certified
ID: R5093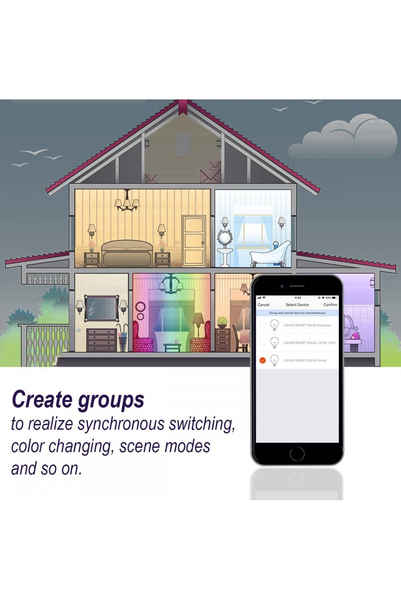 44

,00 €
35

,48 €
Visa Moms 0%
Visa Moms 24%
Webblager:
Beräknad leverans: 20.07 - 30.07
Produktspecifikation
Beskrivning
På lager i butiker
Leverans
Prisutveckling
Strömtillförsel
Utgångsspänning
12 V
Uteffekt
2 A
Strömkälla av typen
AC
Växelström Frekvens
50 - 60 hz
AC-inspänning
100 - 240 V
Förpackning
Vikt inkl. förpackning
430 g
Förpackningstyp
Låda
Förpackningens innehåll
Inklusive nätadapter
Bruksanvisning
Antal per förpackning
1 styck
Egenskaper
Gränssnitt
Wi-Fi
Modell
Smart belysningslist
Wi-Fi-standarder
802.11b,802.11g,Wi-Fi 4 (802.11n)
Intervall för relativ operativ luftfuktighet
0 - 85%
Temperatur vid drift
-25 - 60 ° C
Lampor
24 W
Produktens färg
Vit
Lamptyp
LED
Internationellt skydd (IP) kod
IP65
ljus färg
Multi
Dimbar
Bärbar
Mobila operativsystem som stöds
Android, iOS
Smartphone fjärrsupport
Färgskiftande
Röststyrning
Lampans livslängd
30000 h
Antal LED-dioder
5050
Wi-Fi-frekvens
2.4 GHz
EAN
8435606707145
Source: Icecat.biz
With this LED strip from WOOX you can add cheerful, flexible and smart lighting. The LED strip can be operated with the free WOOX Home app on your phone or tablet, on which you can choose from an extensive range of RGB colors and white, warm white shades. This way you personalize the LED strip to your own taste and adapt it to any situation. The connection between the app and the LED strip is via WiFi, so you do not need a special hub for this.

Weatherproof, UV resistance; IP65 certified
The WOOX R5093 LED Strip is IP65 certified which makes the R5093 WOOX LED Strip ideal for using outside as well in the ever-changing outdoor environment no matter rain or sun shine.

Easy set up
This smart LED strip only requires a reliable 2.4 GHz WiFi router, making it very easy to connect to the free WOOX Home app (for iOS or Android). The LED strip can then be operated from anywhere, whether you are at home on the couch, at work or at your holiday location on the other side of the world. Moreover, you can hang the light strip at any desired location and it is easy to connect with an adapter.

Voice control
The LED strip is also compatible with Amazon Alexa, Google Assistant and IFTTT, so that it can also be controlled via voice control.

Personalize
The LED strip can spread more than 16 million different colors of light, for example to party. This way you always adapt the lighting to the situation, whether you are studying, cooking, reading or dining. Dimming the light is also possible via the app.

Saving energy
Save energy by setting schedules. This way you can ensure that the LED strip does not burn unnecessarily. For example, create a timer or schedule that will stop the light when you go to work, or one that will turn on the lights when you get home. The possibilities are endless.
Postens paketautomat
Beräknad leveranstid: 19.07 - 29.07
Postpaket
Beräknad leveranstid: 20.07 - 30.07
Till dörren-paket
Beräknad leveranstid: 20.07 - 29.07
Hempaket
Beräknad leveranstid: 20.07 - 29.07