Soocas S3 Electric Shaver -rakapparat, Svart
Soocas S3 Electric Shaver -rakapparat, Svart
ID: S3 BLACK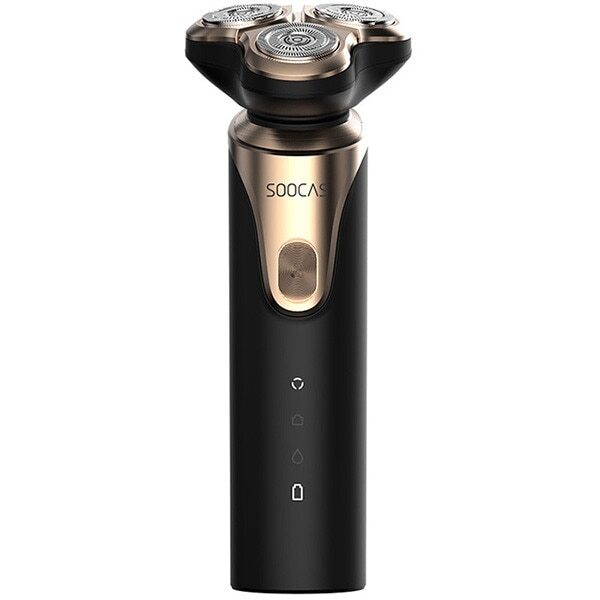 16

,00 €
12

,90 €
Visa Moms 0%
Visa Moms 24%
Inte tillgänglig för tillfället
Beräknad leverans: Okänd
Produktspecifikation
Beskrivning
På lager i butiker
Leverans
Prisutveckling
SOOCAS X3 Electric Shaver Razor For Men
3D Floating Head | IPX7 Washable | Type-C Rechargeable
Infinity Floating Technology (IFT)
It is derived from the suspension vibration technology of the car, which can realize the all-round suspension of the cutter head, which is smoother, more fit and more precise.
Dynamic appearance instantly ignites adrenaline
The fading lines of power and the tough look of the power
Key Of The Way To Shaving Smooth and Clean
Hard and hard but sensitive skin, manual shaving, most electric shavers are sharp but have no skin protection system, and the skin is prone to various discomforts.
SOOCAS innovative IFT suspension floating technology enables the knives to float in all directions, even in uneven conditions, and the unique elastic experience greatly reduces facial pressure, making the whole process comfortable and smooth.
Ultra-soft Comfort Ring Lighter Veneer
Knife net innovation combined with high-precision technical components, the overall weight is reduced, the flexibility is better, each group of knife nets distributes the pressure evenly, keeps the independent floating unaffected, enjoys the soft breeze and softness
360° Veneer To Accurately Capture The Contour
The cutter head can be floated independently in 9 directions. The angle is automatically adjusted according to the facial curve. The 360deg veneer quickly sweeps the beard. The beard in the difficult-to-shave area can also be easily captured. The real net must be zero dead angle.
Dual Blade Sets Working Group
The auxiliary knife lifts the beard, the main knife cuts off the road, and the double-layer blade is shaved shorter and more thoroughly.
Due to the soft collapse of the beard, the thickness of the knife net and other factors, it is easy to leave about 0.1mm blush on the face. To solve this problem, the shi razor is equipped with a layer of thin 0.08mm auxiliary knives, and the auxiliary knives first lift the beard. The main knife is quickly cut off, shaving short and thorough
Once shaved double beard, double ring knife net is bigger into 2 whiskers
Double-layered blade and double-ring knife net design, the input amount is increased by 50%, once into double beard, 15 blades in inner and outer ring, matching with each other
Thick Beard, Clean, Accelerating Gear, Deep Cleaning
With SUOMA MOTOR BL-146 motor, it has high torque, high speed and stable performance. The acceleration speed is up to 3.9m/s. It is especially suitable for deep cleaning needs of thick beard users.
Imported High Quality Steel Materal
Main knife material is from Japan, the auxiliary knife material is from Sweden, and the material is durable.
ECM Electrochemical Machining Process
ECM electrochemical machining process cutter head and knife net not only avoid the appearance of metal burrs, but also greatly improve the wear resistance of the cutters. The three sets of blades and the knives are high in fit, achieving the degree of interoperability.
Main Features:
3D intelligent floating tool head, flexible for various facial contours
Double-ring mesh, increase the contact area between the mesh and the face and effectively improve the shaving efficiency
Blade and mesh are made of imported steel with sharp shaving
Automatic grinding technology, the blade, and mesh will grind each other, without frequent replacement of the head
High speed, quick speed two gears, long press 3 seconds easy adjustment
Double intelligent protections: intelligently monitor the electric quantity, keep low power and reduce steadily when the electric quantity is low, if the blade head is obstructed, it will also be stopped to protection
IPX7 waterproof, one button for water washing, Support both wet and dry using.
Built-in intelligent travel lock, Avoid power consumption by mistake.
Type-C quick charging, Fully charged in 90 minutes then 60 minutes working time in total.
Light touch button switch, Ergonomic design
Postens paketautomat
Beräknad leveranstid: Okänd
Postpaket
Beräknad leveranstid: Okänd
Till dörren-paket
Beräknad leveranstid: Okänd
Hempaket
Beräknad leveranstid: Okänd