SONY A6100 Body ILCE-6100B
SONY A6100 Body ILCE-6100B
ID: ILCE6100B.CEC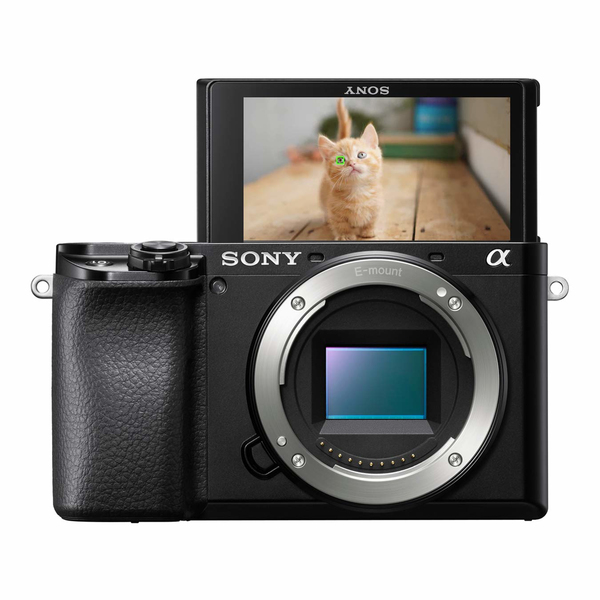 919

,00 €
741

,13 €
Visa Moms 0%
Visa Moms 24%
Webblager:
Beräknad leverans: 07.04 - 09.04
Produktspecifikation
Beskrivning
På lager i butiker
Leverans
Prisutveckling
Minne
Minnesplatser
1
Typ av minneskort
MS Micro (M2),MS PRO Duo,MS Pro-HG Duo,SD,SDHC,SDXC
Skärm
Displaytyp
TFT
Skärm diagonal
7,62 cm (3")
Diagonal skärmstorlek
7,5 cm
Pekskärm
Skärmupplösning (numerisk)
921600 pixlar
Audio
Ljudsystem
Stereo
Inbyggd mikrofon
Inspelning
Anslutningar
Uttag för mikrofon/linje in
Hörlursanslutning
3,5 mm
HDMI
Typ av HDMI-kontakt
Mikro
USB-kontakt
Micro-USB
Vikt & dimension
Höjd
66,9 mm
Bredd
120 mm
Djup
59,4 mm
Ljuskänslighet
Ljusexponering, justering
± 5EV (1/2EV; 1/3EV step)
Ljusexponeringskontroll
Programautomatik
ISO-känslighet
100,32000
Ljusexponeringslägen
Bländarprioritet AE, Automatisk, Manuell, Bländarautomatik
Ljusmätning
Centrum-vägd, Evaluerande (multimönster), Matris, Partiell, Punkt
ISO-känslighet (min)
100
ISO-känslighet (max)
32000
Fotokvalitet
Megapixel
24,2 MP
Bildsensortyp
CMOS
Stillbildsupplösning(ar)
L: 6000 x 4000 (24M), M: 4240 x 2832 (12M), S: 3008 x 2000 (6.0M)
L: 6000 x 3376 (20M), M: 4240 x 2400 (10M), S: 3008 x 1688 (5.1M)
L: 4000 x 4000 (16M), M: 2832 x 2832 (8.0M), S: 2000 x 2000 (4.0M)
Bildkomprimeringsformat
JPEG,RAW
Bildsensorns mått (B x H)
23,5 x 15,6 mm
Maximal bildupplösning
6000 x 40000 pixlar
Totalt megapixel
25 MP
Kameratyp
SLR-kamerahus
Som stöds bildformat
1:1,3:2,4:3,16:9
Nätverk
Wi-Fi-standarder
802.11b,802.11g,Wi-Fi 4 (802.11n)
Bluetooth-version
4.1
Bluetooth
Wi-Fi
Närfältskommunikation (NFC)
Grafikstyrenhet
Analogt signalformatsystem
NTSC,PAL
Rörlig JPEG bildfrekvens
30 fps
Upplösning vid filmning
1920x1080@24fps,1920x1080@30fps,1920x1080@60fps,3840x2160@24fps,3840x2160@30fps
Videoformat som stöds
AVC,AVCHD,H.264,MPEG4,XAVC S
Maximal videoupplösning
3840 x 2160 pixlar
Videoupplösningar
3840 x 2160,1920 x 1080 pixlar
Videoinspelning
HD-typ
4K Ultra HD
Fokusering
Justering av fokus
Auto/manuell
Autofokuseringslägen (AF)
Mittviktat autofokus, Multi Point autofokus, Autofokus spot
Blixt
Uppladdningstid för blixt
4 s
Blixtlägen
Automatisk, Blixt utstängd, Blixt på, Höghastighetssynkronisering, Röda-ögon-reducering, Långsam synkronisering
Exponeringskompensation för blixt
Blixtexponeringskontroll korrigering
±3EV (1/2; 1/3 EV step)
Sökare
Kamerasökare
Elektronisk
Vinwfinder skärmstorlek
0.39"
Sökare
1440000 pixlar
Kamera
Vitbalans
Automatisk, Molnig, Dagsljus, Fluorescerande, Glödande, Manuell, Skugga, Undervatten
Fördröjning på självutlösare
2,5,10 s
Fotograferingsmetoder
Bländarförval, Automatisk, Manuell, Program
Kontrastjustering
Mättnadsjustering
Ljusstyrkeinställning
Histogram
Fotoeffekter
Svartvitt, Neutral, Sepia
Motivlägen
Natt, Poträtt, Idrott, Skymning
Dioptrijustering (D-D)
-4 - 3
Dioptriinställning
Förpackningens innehåll
Snabbstartsguide
Manual
Batteri
Batteritid (CIPA-standard)
420 skott
Slutare
Kameraslutningstyp
Elektronisk
Kamerans snabbaste slutarhastighet
1/4000 s
Kamerans långsammaste slutarhastighet
30 s
Design
Produktens färg
Svart
EAN
4548736108646
Garanti
2 år
Source: Icecat.biz
Capture your world, share your vision
Capture special moments and portraits to remember and share. Thanks to stunning image quality and speed based on technology developed for our full-frame models, you can leave the hard work to the camera. The α6100 ensures you'll never miss an instant.

Real-time Tracking
Follow your subject with reliable precision
Keeping active subjects in constant, steady focus is absolutely vital to capturing every important moment, whether you're covering a sporting event or documenting everyday life. Sony's sophisticated AI-based1 subject-tracking algorithms won't let you down, processing massive volumes of spatial data at high speed and in real time.

Real-time Eye AF for human
Real-time Eye AF provides continuous eye tracking when shooting portraits in motion. You can prioritise either the left or the right eye, and it works even when the face is partially hidden, backlit or facing downwards.

Real-time Eye AF for animal
Sony's innovative eye-detection algorithms have been adapted to animal2 as well as human, to give you sharply focused pet portraits and beautiful wildlife shots.

Autofocus you can rely on
Wide AF area, super-fast acquisition speed and persistent tracking
The camera's wide AF coverage is based on dense arrays of 425 phase-detection points and 425 contrast-detection points, for greatly increased detection accuracy. Fast performance from the latest-generation processing engine helps achieve a remarkable 0.02-second3 AF acquisition speed, while advanced algorithms work to predict your subject's future location.

Fast continuous shooting at up to 11 frames per second, with AF/AE
Impressively speedy internal processing and the high-capacity buffer memory mean you can fire off continuous shots at up to 11fps4 with after-view or 8fps4 for real-time preview, with minimal display lag. You can take around 77 shots5 in JPEG (Standard) format in one continuous burst.

Silent continuous shooting at up to 8fps
Silent shooting is helpful in situations where noise would be distracting, such as at live performances or when taking animal portraits. The α6100 can shoot continuously without shutter noise at up to 8fps6 with AF/AE tracking, even in AF-C mode, and with Real-time Eye AF or with Real-time Tracking.

Superior image resolution and natural-looking textures
The APS-C sensor uses copper wiring for better conductivity and enhanced circuit processing to help optimise light-collection efficiency. In conjunction with the latest-generation image processing engine, this enables better image resolution and natural-looking textures.

Cleaner images in dimly lit settings
Improved noise suppression produces cleaner images in dark settings where high-sensitivity shooting is required. The native ISO sensitivity reaches a maximum ISO 32000, with expanded ISO sensitivity up to ISO 51200 for stills. Noise reduction is particularly effective in the frequently used medium-to-high sensitivity range.

Lifelike skin tones
The skin tone feature inherited from our latest, highly acclaimed full-frame cameras captures the natural beauty of human skin tones, helping you take portraits that look their best.

Realistic colour reproduction
Natural-looking images with improved colour reproduction better match what you see in real life, with more vibrant colours of flowers and similar objects as well as suppression of jaggies and false colours.
Postens paketautomat
Beräknad leveranstid: 06.04 - 08.04
Postpaket
Beräknad leveranstid: 07.04 - 09.04
Till dörren-paket
Beräknad leveranstid: 07.04 - 08.04
Hempaket
Beräknad leveranstid: 07.04 - 08.04