D-Link Full HD Outdoor Wi-Fi Camera
D-Link Full HD Outdoor Wi-Fi Camera
ID: DCS-8600LH/E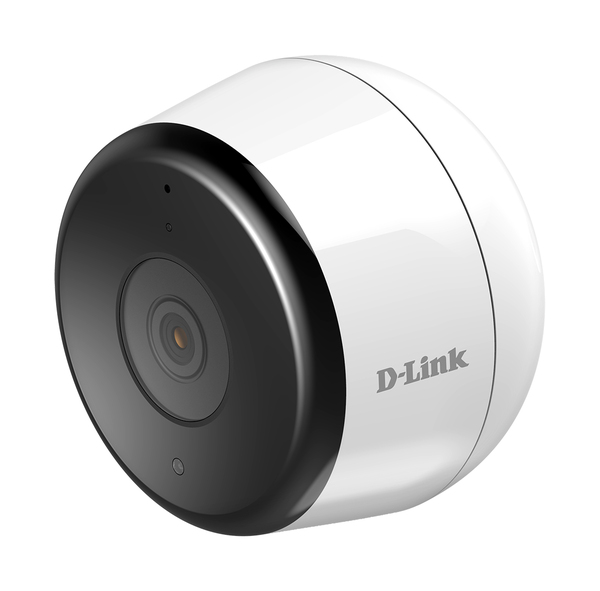 179

,00 €
144

,35 €
Visa Moms 0%
Visa Moms 24%
Webblager:
Beräknad leverans: 05.04 - 15.04
Produktspecifikation
Beskrivning
På lager i butiker
Leverans
Prisutveckling
Systemkrav
Mobila operativsystem som stöds
Android, iOS
Audio
Ljudsystem
2-vägs
Inbyggd mikrofon
Ljudformat som stöds
AAC
Inbyggda högtalare
Ljuddetektering
Anslutningar
Gränssnitt
WLAN
Linssystem
Största bländare
2,4
Fast brännvidd
3,3 mm
Vikt & dimension
Vikt
290 g
Höjd
88 mm
Bredd
88 mm
Djup
69,6 mm
Strömtillförsel
DC-utgång volt
5
DC-utgång ampere
2 A
Strömkälla av typen
AC, DC
Växelström Frekvens
50 - 60 hz
AC-inspänning
100 - 240 V
Strömförbrukning (max)
6 W
Miljökrav
Intervall för relativ operativ luftfuktighet
20 - 80%
Temperaturintervall (förvaring)
-25 - 70 °C
Temperatur vid drift
-25 - 45 ° C
Fuktighet (förvaring)
20 - 80%
Nätverk
Wi-Fi-standarder
802.11b, 802.11g, Wi-Fi 4 (802.11n)
Stöd för nätverksprotokoll
IPv6, IPv4, ARP, TCP/IP, UDP, ICMP
Nätverksansluten (Ethernet)
Frekvensband
2,4 GHz
Bluetooth
Maximal överföringshastighet för trådlöst LAN
150 Mbit/s
Wi-Fi
Grafikstyrenhet
Maximal upplösning
1920 x 1080 pixlar
Komprimeringsformat
H.264, M-JPEG
Full HD
Bildfrekvens
30 fps
Grafikupplösningar som stöds
1280 x 720 (HD 720), 1920 x 1080 (HD 1080)
Videolägen som stöds
720p, 1080p
Lagringsmedia
Typ av minneskort
MicroSD (TransFlash)
Inbyggd kortläsare
Inbyggd hårddisk
Bevakning
Kryptering/säkerhet
128-bit AES, HTTPS, WPA, WPA2
Video rörelsedetektor
Ljussensor
Bildsensor
Bildsensortyp
CMOS
Optisk sensorstorlek
25,4 / 2,7 mm (1 / 2.7")
Progressiv skanning
Antal sensorer
1
Management features
Webbaserad adminstraion
Återställningsknapp
Förpackningens innehåll
Antal kameror
1
Design
Formfaktor
Kub
Indikationer
Status
Produktens färg
Svart, Vit
Monteringssätt
Innertak/vägg
Internationellt skydd (IP) kod
IP65
Väderbeständig
Mörkerseende
LED typ
IR
Mörkerseende
Mörkerseende avstånd
7 m
Prestanda
Modell
IP-säkerhetskamera
Certifiering
CE, CE LVD, FCC, ICES, RCM
Anslutningsteknologi
Trådlös
Placeringar som kan användas
Inomhus & utomhus
Infrarött (IR) gränsfilter
EAN
790069442346
Garanti
2 år
Source: Icecat.biz
Weatherproof
IP65-rated weatherproofing provides the camera and 7m cable with protection against rain, moisture, dust, and -25°C cold to 45°C hot temperatures.

Full HD 1080p clarity
High-definition photos and videos in both daylight and at night.

Motion and sound detection
Scans for any motion and sound changes, alerts you with a mobile or tablet notification, and starts recording and interacting with other mydlink devices.

2-way audio
Talk and listen with speakers that are integrated into the design and a built-in microphone to detect sounds.

Connects to your home's wireless network
View and control the camera anywhere with internet access.

Smart home compatible
Works with mydlink smart home devices, Amazon Alexa and Google Assistant.

Outdoor security, whatever the weather.
Enjoy peace of mind with all-season weatherproof security. Record Full HD 1080p videos, detect motion and sound, receive notifications, and control more from the mydlink™ app. The weatherproof camera and 7 metre cable can withstand freezing winters, heatwave summers, rain, moisture and dust.

IP65-rated weatherproof camera housing and 7m cable.
The camera and its 7 metre cable are IP65-rated weatherproof so you can place it further outdoors without worrying about the weather.

See more of your world.
The 135° wide-angle lens brings more into view, and the 1080p HD sensor allows you to see clearer footage
Monitor day and night, with infrared night vision LEDs which allow the camera to see up to 7 metres even in complete darkness.

Powerful magnetism.
The strong magnetic mount makes the camera easy to install onto surfaces such as walls, trees, doorways, or ceilings. Connecting to your home Wi-Fi is quick and easy.

Let's you know when it detects motion and sounds.
Protect what matters to you with customizable motion detection that sends push notifications to your phone and automatically records snapshots and video clips to your private mydlink™ Cloud account. Sound detection instantly notifies you of loud noises, like an alarm, or a window breaking.

Mobile Phone
Select push notifications to be sent to your phone.

MicroSD Card Slot
Save your footage to a microSD card.

Cloud storage
Record automatically to your mydlink Cloud account.

2-way audio
Talk through its built-in speaker and hear any sound recorded by its microphone. Tell your pet to get down off the bed, talk to your children while they play, let the postman know where to put mail, or speak to visitors when they arrive.

mydlink™ Cloud Recording.
Cloud recording makes it easy and convenient for you to look after your family and check up on your home or office. With a free or premium mydlink™ cloud-recording subscription, you can have peace of mind knowing your video recordings are saved automatically to a Cloud server.

Play video recordings.
View directly from the mydlink™ Cloud or save video clips to your mobile device.

Real-time live views
Access real-time live views of your cameras from anywhere, anytime.

Automated schedules
Create schedules from your mobile device, no matter where you are.

Know the full story and take action, straight from your lock screen.
Rich push notifications allow you to see more of what's happening, and gives you the option to choose actions like see the Live View, or call a neighbour, all without unlocking your phone and logging into the mydlink™ app.

Do it all with the mydlink™ app.
It's simple to set up your camera with the mydlink™ app for your phone or tablet. Once set up, you can view and control your camera from anywhere with internet access.

With compatible mydlinkTM smart home products, you can create automation rules for interactions and scheduling. Create scenes for when you arrive home or leave. And the One-Tap feature allows you to turn on and off multiple devices easily.

Fits right in at your smart home.

Make your home life easier by setting up mydlink home automation actions combinations. Turn a light on automatically when motion or sound is detected or send an alert to your mobile. Creating 'recipes' of actions get your smart home devices interacting with each other to give you more control and save you time.

The camera is fully compatible with Amazon Alexa and Google Home/Chromecast devices so you can easily see what's happening at home when your hands are full.
Postens paketautomat
Beräknad leveranstid: 04.04 - 14.04
Postpaket
Beräknad leveranstid: 05.04 - 15.04
Till dörren-paket
Beräknad leveranstid: 05.04 - 14.04
Hempaket
Beräknad leveranstid: 05.04 - 14.04