Netatmo Healthy Home Coach - Smart klimatövervakning inomhus
Netatmo Healthy Home Coach - Smart klimatövervakning inomhus
ID: NHC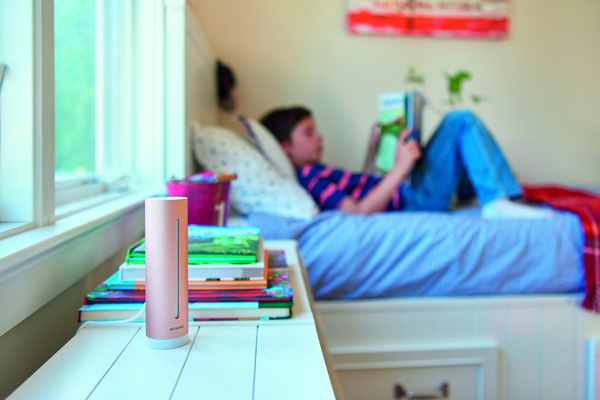 Modellen har utgått eller finns inte tillgänglig just nu. Vänligen kontakta vår kundtjänst för närmare information om den här produkten.
Inte tillgänglig för tillfället
Beräknad leverans: Okänd
Produktspecifikation
Beskrivning
På lager i butiker
Leverans
Prisutveckling
Skärm
Inbyggd display
Anslutningar
Anslutningsteknologi
Trådlös
Vikt & dimension
Vikt
173 g
Vikt inkl. förpackning
621 g
Höjd
200 mm
Bredd
45 mm
Djup
45 mm
Låddjup
80 mm
Förpackningens bredd
150 mm
Strömtillförsel
Spänning
100 - 240 V
Maximal styrka
2,75 W
Strömkälla av typen
AC
Miljökrav
Intervall för relativ operativ luftfuktighet
0 - 100%
Temperaturintervall (förvaring)
-20 - 80 ° C
Temperatur vid drift
0 - 50 ° C
Nätverk
Smart väderstation
Förpackningens innehåll
Bruksanvisning
Adapter ingår
Egenskaper
Wi-Fi-standarder
802.11b,802.11g, Wi-Fi 4 (802.11n)
Kryptering/säkerhet
AES, TKIP, WEP, WPA, WPA2
Trådlös kommunikationsteknologi
Wi-Fi
Anslutningsteknologi
Trådlös
Produktens färg
Rosa, Vit
Kompatibla produkter
Apple HomeKit
Enkel installation
Uppgraderingsbar, inbyggd programvara
Material, hölje
Gjuten aluminium, Plast
Intervall för temperaturmätning
0 - 50 ° C
Temperaturmätområde (inuti) (T-T)
32 - 112 ° F
Fuktighet mätområde (utanför) (H-H)
0 - 100%
Inbyggd display
Mätfunktioner
Inomhushygrometer, Inomhustermometer
Frekvens
2400 MHz
Väderstationsiakttagelserna extremum uppgifter
Hygrometer, Termometer
Väderförhållanden som registreras
Luftkvalitet, Luftfuktighet, Ljudnivå, Temperatur
Luftfuktighet, precision
3%
Logistikdata
Ursprungsland
Kina
EAN
3700730501767
Source: Icecat.biz
DISCOVER HOW TO CREATE A HEALTHIER HOME

You want to provide the healthiest home possible for your family. Netatmo's Smart Indoor Air Quality Monitor shows you how.

Whether it's the best noise level for sound sleeping or the right humidity levels for a child with asthma, it measures what matters, highlights potential problems, and tells you how to fix them.

Netatmo Smart Indoor Air Quality Monitor measures the vitals of your home and alerts you when something needs to be fixed. Air quality level, humidity, temperature, noise, you know precisely how healthy your rooms are.

Thanks to its easy App you know at a glance if your home is healthy or not. You get notifications when something needs to be fixed and advice on what you can do to get a healthier home.

Why does it matter?

AIR QUALITY
We spend 80% of our time indoors, and much of that time is at home. The air you breathe while you're there impacts the health of your whole family.
A poorly ventilated room leads to high indoor air pollution. It also tremendously reduces your ability to concentrate, which is key when your teens are doing their homework or preparing exams.
Smart Indoor Air Quality Monitor sends you notifications to make sure you never forget to ventilate a room.

HUMIDITY
Dry air can cause itchy skin. Humid air can lead to the growth of mold. And humidity levels can help managing asthma and allergies. Find the balance that works best for each room of your home.

TEMPERATURE
Your baby and toddler are not able yet to balance their body temperature properly. A room that feels just right to you might be too hot for them. You might find them waking up from naptime all sweaty while you were sure the room temperature was comfortable. Healthy Home Coach advises you on the precise temperature your child needs to feel good.

NOISE
Often a disturbed sleep might be caused by noises you don't realize you heard. Check the data history of your family sleep time to understand how you can improve their sleep.

REMOTE ACCESS: Just log in using our app and access your home's indoor climate from anywhere.

EASY TO USE: With just one tap on the top, Smart Indoor Air Quality Monitor lights up to give you immediate insight into the health of your home.

EASILY EXPANDABLE: Monitor better your home by placing a Smart Indoor Air Quality Monitor in each room that matters in your family life.
Ingen prisutvecklingsinformation för denna produkt.