Mad Catz C.T.R.L.i Mobile Gamepad (MFi)
Mad Catz C.T.R.L.i Mobile Gamepad (MFi)
ID: MCB312630AC2/04/1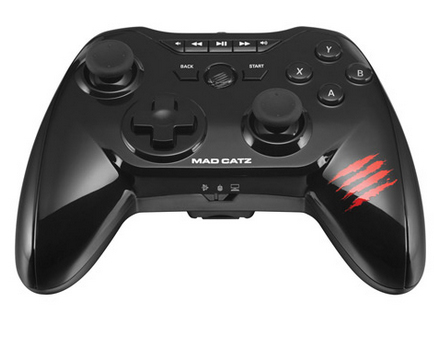 79

,00 €
63

,71 €
Visa Moms 0%
Visa Moms 24%
Inte tillgänglig för tillfället
Beräknad leverans: Okänd
Produktspecifikation
Beskrivning
På lager i butiker
Leverans
Prisutveckling
Anslutningar
Anslutningsteknologi
Trådlös
Gränssnitt
Bluetooth
Inmatningsenhet
Enhetstyp
Spelplatta
Gaming Control funktionstangenter
Back button,Start button
Spelplattformar som stöds
iOS
Ergonomi
Produktens färg
Svart
EAN
728658041960
Garanti
1 år
Source: Icecat.biz
Console-caliber Gaming Performance

The C.T.R.L.i Mobile Gamepad delivers traditional gaming controls for devices running iOS 7. Whether at home or on the move with the included smartphone clip, C.T.R.L.i transforms your iOS device into a portable gaming console. Connect your iPhone to your TV with Apple's Lightning Digital AV Adapter* and you can enjoy an authentic arcade experience in your living room. Providing responsiveness that outshines controllers made for standard gaming consoles, C.T.R.L.i is the premier controller for Apple devices.

*Apple Lightning Digital AV Adapter sold separately.

Perfect for Big-screen Gaming

Armed with the proper cable and adapter, you have the power to connect your iOS device to your HDTV. And, a console-grade gaming experience isn't complete without a console-grade controller. C.T.R.L.i is just that – a full-size gaming controller with premium components including dual analog sticks, fully analog triggers and action buttons, plus a pressure-sensitive D-Pad.

Plays Nicely with Apple Products

The C.T.R.L.i Mobile Gamepad employs an Apple-approved Bluetooth chip to ensure compatibility with most Apple products. C.T.R.L.i is officially Apple-certified to meet or exceed their comprehensive performance standards.

Made for:

- iPhone 5s
- iPhone 5c
- iPhone 5
- iPad Air
- iPad mini with Retina display
- iPad (4th generation)
- iPad mini
- iPod touch (5th generation)

Uncomplicated Bluetooth Classic Connectivity

An easy pairing process will quickly establish a Bluetooth link between C.T.R.L.i and an Apple device. Enable a connection by merely pressing the gamepad's dedicated Bluetooth button and then tapping the C.T.R.L.i entry on the host device. Accommodating full support for multiplayer gaming, up to four gamepads can pair to the same iOS device. And, four convenient LEDs grant at-a-glance player status.

Extensive Battery Life

Courtesy of integrated Bluetooth technology, C.T.R.L.i is extremely efficient at power conservation. Offering plenty of portable gaming power, the included AAA batteries last for up to 40 hours.

Mad Catz C.T.R.L.i App Monitors Controller Status

Mad Catz' downloadable application provides the ability to keep tabs on controller functionality. Once installed on an Apple device, just a few taps can easily determine remaining battery life. The application helps future-proof C.T.R.L.i by offering automatic notification of over-the-air firmware updates. Also doubling as an onscreen controller health clinic, press a button or move a stick to visually verify that all C.T.R.L.i components are physically fit.

Travel Ready

Ideal for replacing touch controls with console-like controller functionality while on the move, an adjustable travel clip* can affix an iOS device directly atop the C.T.R.L.i Mobile Gamepad.

*Minimum device width = 2.3 inches (58.6mm); maximum device width = 3.17 inches (80.5mm).
Postens paketautomat
Beräknad leveranstid: Okänd
Postpaket
Beräknad leveranstid: Okänd
Till dörren-paket
Beräknad leveranstid: Okänd
Hempaket
Beräknad leveranstid: Okänd