Spin Master Aerobie Sonic Fin Football Garden Play Equipment
ID: 6060699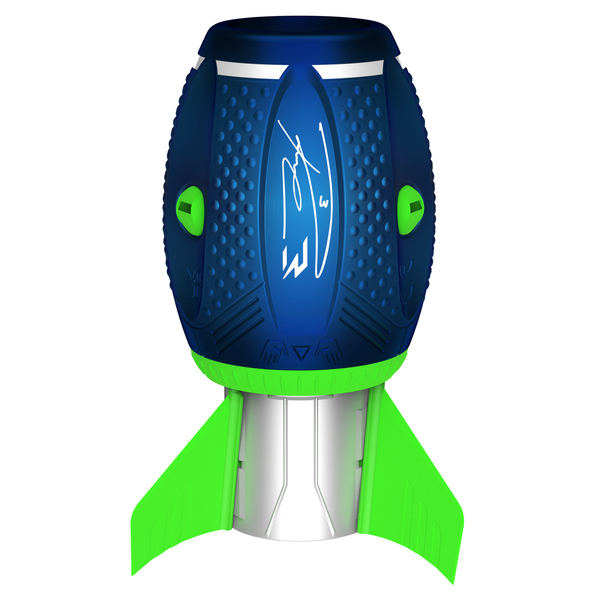 23
00€
18
55€
Näytä ALV 0%
Näytä ALV 24%
Arvioitu toimitus: 14.12. - 15.12.
2kpl saatavilla tukkurilta
Tuotetiedot
Kuvaus
Myymäläsaatavuus
Toimitus
Hinnan muutokset
Throw like a pro with the Aerobie Sonic Fin High Performance Football. Officially endorsed by Russell Wilson, pro quarterback, this aerodynamic football puts the power of a pro in your hands. The innovative hollow gyroscopic design creates ultimate lift and max distance in the air so you can go long with throws up to 100 yards or 90 meters. With its customizable calibration ring, this kids football is great for both right and left handed throwers, letting every player challenge themselves while playing their favorite sport and outdoor game. The precise balance of the Sonic Fin football makes it easier to toss perfect spirals like your favorite pro quarterback, and the durable plastic fins can be adjusted to increase the spin rate for maximum speed and distance. Wind up, challenge yourself to launch it as far as you can, and listen to the whistling sound while it flies. The Aerobie Sonic Fin Football puts the power of a pro in your hands and is perfect for kids, adults, and anyone in between, making it great for outdoor kids and family games. Compete against your friends and Russell Wilson to see how far you can make the football go with the #sonicfinchallenge - check out the product videos to learn more! When throwing the Sonic Fin over 50 yards, we recommend letting it land on the ground so you can see who threw it the farthest! For closer distances, it's great for playing catch with friends. The dark blue colored design stands out in the backyard, pool, or on the beach for an exciting outdoor game for kids. To start playing with the Sonic Fin, pull the tab on the top of the package all the way down the back. The Sonic Fin football measures 5.38" x 4.63" x 9.75" and is recommended for children ages 8-14, making it a great kids toy for both boys and girls. How far can you throw it?

Includes: 1 Aerobie Sonic Fin Football
Postin pakettiautomaatti
Arvioitu toimitusaika: 13.12. - 14.12.
Postipaketti
Arvioitu toimitusaika: 14.12. - 15.12.
Ovelle-paketti
Arvioitu toimitusaika: 14.12.
Kotipaketti
Arvioitu toimitusaika: 14.12.