Konftel 300MX 4G
Konftel 300MX 4G
ID: 910101091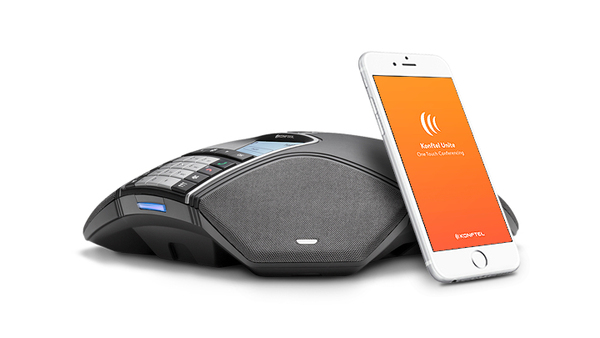 1249

,00 €
1007

,26 €
Näytä ALV 0%
Näytä ALV 24%
Verkkokauppa:

3 kpl
Arvioitu toimitus: 06.12
Tuotetiedot
Kuvaus
Myymäläsaatavuus
Toimitus
Hinnan muutokset
Tekniset tiedot
Yhdenmukaisuus alan vaatimusten kanssa
Safety: EN 60950-1:2006 + A11:2009 + A1:2010 + A12:2011 + A2:2013 IEC 60950-1:2005/A1+A2<br /> EMC: EN 301 489-1 V2.1.1 EN 301 489-7 V2.2.1<br /> Radio: EN 301 908-1 V11
Taajuusalue
200 - 7000 Hz
Henkilöiden lukumäärä
20 henkilö(t)
Liitettävyys
USB-liitin
Mini-USB B
USB-portti
Paino ja mitat
Paino
1 kg
Tuotteen korkeus
77 mm
Virranhallinta
Tulojännite
100-240 V
Ulostulojännite
14 V
Ympäristöolosuhteet
Käyttölämpötila (T-T)
5 - 40 °C
Tallennusväline
Yhteensopivat muistikortit
SD, SDHC, SDXC
Lähdöt
Suurin lähtöamplitudi
90 dB
EAN
7394001011299
Takuu
2 vuotta
Source: Icecat.biz
The Konftel 300Mx 4G is the world's only mobile conference phone. Insert the SIM card and start your meeting immediately, with no fuss or cables. Wherever you have cell phone coverage. However you want, thanks to the unit's versatility and support for PC-based collaboration.

Crystal-clear
You enjoy better sound quality than from a landline. The Konftel 300Mx is based on our OmniSound® audio technology and supports HD Voice on the mobile network. With natural, crystal-clear sound, the nuances of the call come across and the dialogue can flow smoothly. Connecting expansion microphones enables up to 20 people to be heard with superb clarity.

You're in control
Konftel 300Mx and the Konftel Unite mobile app are the perfect combination. Via the optional Konftel Unite adapter , you can connect up the app to manage the conference phone effortlessly. With our One Touch Conferencing, one touch really is all it takes to start or join a meeting. Use your personal contact book and control the phone's functions during the meeting.

Perfect for collaboration
A USB port makes the Konftel 300Mx ready for all the apps and services we use to communicate and collaborate via computers – such as Microsoft Teams, Skype, Cisco Webex, Zoom, Google Hangouts, Avaya IX Workplace and Unify Circuit. Don't compromise on audio quality when your teamwork goes "live" in an online meeting.

For the mobile company
Konftel's mobile conference telephone is perfect if your company has chosen a fully mobile communications solution or if you need to supplement fixed devices. The battery provides up to 30 hours of talk time and charges when the Konftel 300Mx is placed on the supplied charging cradle.

Smart features
Use the line selector to switch easily between mobile phone and USB connections, or connect calls. Other popular features include recording onto an SD memory card, SMS and a conference guide that will take you through the steps to set up a multi-party call and create call groups.

A highly convenient video solution
Are you after a package solution for medium and large meeting rooms? The Konftel C50300Mx Hybrid combines the Konftel 300Mx with the Konftel Cam50, a PTZ conference camera with 12x optical zoom and exceptional image quality. The Konftel OCC Hub brings the whole package together, so a single USB cable is all you need to connect the conference cam, the conference phone and the room's screen to the collaboration app on your laptop. The hybrid concept also delivers the freedom to welcome participants via regular phone calls.

Climate neutral products
Konftel is certified in line with the Climate Neutral standard. This means that we have offset all our greenhouse gas emissions and are taking action to further reduce those emissions. When you choose a Konftel product, there is a climate benefit from the very first distance meeting that replaces a business trip. Keep an eye out for the Climate Neutral Certified label, which indicates that all our products are climate neutral.
Postipaketti
Arvioitu toimitusaika: 06.12
Ovelle-paketti
Arvioitu toimitusaika: 06.12
Kotipaketti
Arvioitu toimitusaika: 06.12
Postin pakettiautomaatti
Arvioitu toimitusaika: 05.12