SilentiumPC Gear SR300F V2 -pelituoli, punainen
SilentiumPC Gear SR300F V2 -pelituoli, punainen
ID: SPG038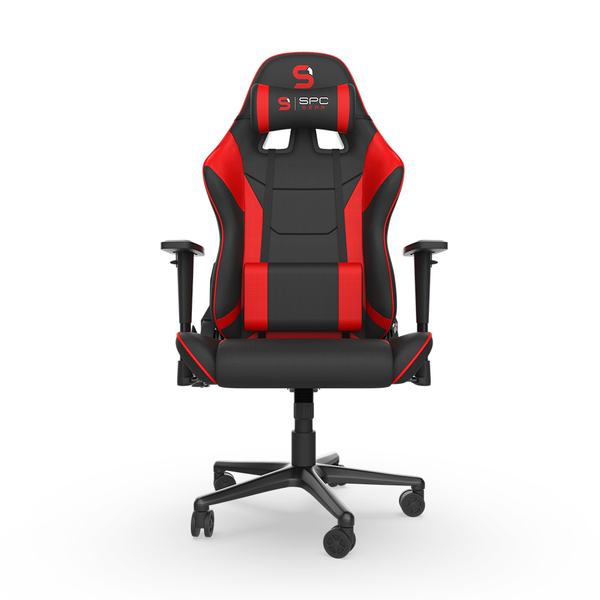 209

,00 €
168

,55 €
Näytä ALV 0%
Näytä ALV 24%
Verkkokauppa:
Arvioitu toimitus: 02.04 - 04.04
Tuotetiedot
Kuvaus
Myymäläsaatavuus
Toimitus
Hinnan muutokset
SPC Gear SR300F V2 is a thoroughly modernized and refreshed second generation of the extremely popular gaming chair: SPC Gear SR300. The "F" marking indicates that the upholstery is made of comfortable and breathable fabric, which in SR300F V2 is available in two colors: black (BK) and red (RD). Armrests and wheels are also upgraded – according to the requests of SR300 users.

BUCKET DESIGN
Bucket chairs mean not only comfort during long gaming sessions, but also a delight to the eye and a unique design that perfectly fits the room of a seasoned gamer. The shape of the SR300F V2 refers to rally seats, and thus supports the body in its key parts and ensures high comfort. The obligatory parts are included cushions that help in maintaining the right posture.

STEEL FRAME
The steel frame supported by elastic straps is the core of the durable SPC Gear SR300F V2 chair construction. The TILT mechanism is connected to a steel support via top-, fourth-class cylinder (up to 150 kg of static load). Together with the new, bigger wheels, it ensures high durability of the entire structure, which we recommend for people weighing up to 120 kg.

MESH MATERIAL
A special feature of the SPC Gear SR300F V2 BK is its material upholstery which provides air exchange useful especially on hot summer days. The fabric with a special weave is also pleasant to the touch, which further increases sitting comfort, and also eliminates the problem of body "sticking" to the chair.

ADJUSTABLE BACKREST
Adjust the chair to your needs thanks to the possibility of inclining the backrest up to 170 degrees – from vertical (90⁰) to almost horizontal position (170⁰).

TILT MECHANISM
The mechanism supporting the seat has a TILT function allowing the user to tilt the seat up to 18°.

2D ARMRESTS
Height-adjustable armrests allow the user to adjust the position on which the forearms will comfortably rest, which prevents fatigue during prolonged sessions.

TWO PILLOWS INCLUDED
Two pillows are included within the set, responsible for supporting the spine on its cervical and lumbar section, what has a positive effect on maintaining correct position.

SEAT HEIGHT ADJUSTMENT
The high-, fourth-class gas lift used in the chair, allows the seat height to be adjusted within 75 milimeters range (from 47 to 54,5 centimeters), making the chair suitable for people from 165 to 185 centimeters tall.

INCLINATION RESISTANCE ADJUSTMENT
The chairs have an adjustable tilt function that allows you to adjust the resistance to your weight and movements, what contributes to stability and control.
Postipaketti
Arvioitu toimitusaika: 02.04 - 04.04
Ovelle-paketti
Arvioitu toimitusaika: 02.04 - 03.04
Kotipaketti
Arvioitu toimitusaika: 02.04 - 03.04
Postin pakettiautomaatti
Arvioitu toimitusaika: 01.04 - 03.04