Iotty Smart Switch LSWE21 (Single-gang)
Iotty Smart Switch LSWE21 (Single-gang)
ID: LSWE21W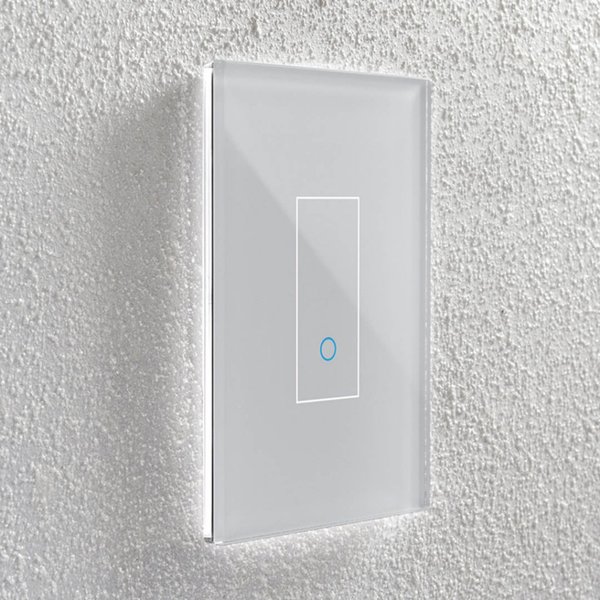 69

,00 €
55

,65 €
Näytä ALV 0%
Näytä ALV 24%
Verkkokauppa:

40+ kpl
Arvioitu toimitus: 15.07 - 18.07
Tuotetiedot
Kuvaus
Myymäläsaatavuus
Toimitus
Hinnan muutokset
Features – Discover all the actions and command that you can enjoy with iotty
Eneryg Consumption - Monitor and keep energy consumption under control.
Notifications - Receive notifications when a light turns on or off
Geofencing - Switch on iotty when you enter a specific geographical area.
Sun - Switch on iotty at sunrise or at sunset.
Weather - Turn on iotty based on weather conditions.
Time - Switch on iotty at a specific time.
Activity Dependent - Use Wi-Fi to create a central button to control them all.
Away Mode - turn on iotty randomly so its will seem like you are at home
Share with other users - choose to share selected gang(s) with any other user.
Backlight - Program iotty backlight to turn on or change its brightness
Multi-way - use wi-fi to create multi-way switching.
Garage Door - Make your garage door smart by connecting it to iotty.
Wi-Fi - Turn on iotty when your smartphone connects to a specific Wi- Fi *available only for Android.
Scene - Send multiple commands with just one tap.
It's easy!
Install iotty Smart Switch and, with just a Wi-Fi connection, your home becomes instantly smart.
Thanks to the iotty built-in Wi-Fi, you won't need any hub or central unit.
Remove your old switch, install iotty and connect it to your Wi-Fi through the app.
A design statement for smart homes
Everybody is going to notice.
Bright and modern, the iotty Smart Switch gives an elegant touch to your walls.
State of the art
Designed in Italy. Enjoy the beauty, the amazing quality and the attention to detail.
Do not leave anything to chance.
Just a word away
Tell iotty what to do by talking to the most common vocal assistants. Iotty works with Amazon alexa, Google Assistant and IFTTT.
Synchronize your home with the environment
iotty is a lot more than a switch: tune your lights according to the environment; switch them on based on the sun, on the weather, on your location.
iotty App
Thanks to the intuitive app, you can keep every iotty under control.
Creates actions, receive notifications, manage the energy consumption and personalise everything as you want it.
What color do you feel like?
Select your favorite color. Express yourself to the fullest, choosing the perfect faceplate. Available in Black and White.
Tällä tuotteella ei ole hinnanmuutostietoja.
Postin pakettiautomaatti
Arvioitu toimitusaika: 14.07 - 17.07
Postipaketti
Arvioitu toimitusaika: 15.07 - 18.07
Ovelle-paketti
Arvioitu toimitusaika: 15.07 - 17.07
Kotipaketti
Arvioitu toimitusaika: 15.07 - 17.07