Hasbro Nerf Elite 2.0 Warden DB-8, Nerf Gun (light blue / orange)
ID: E9959EU4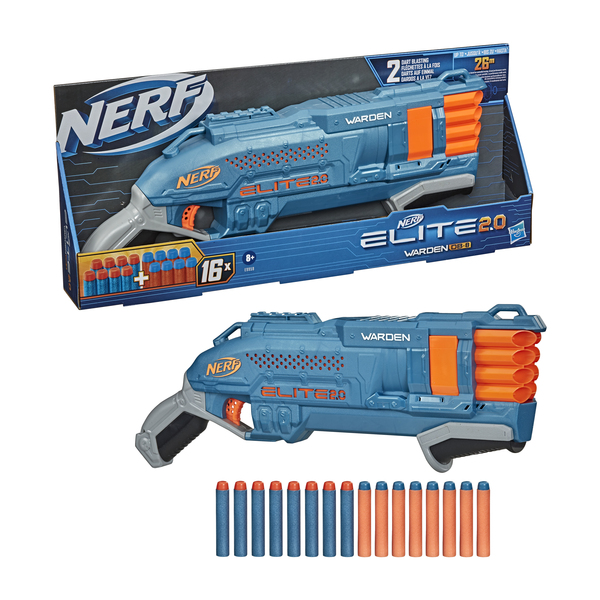 34
00€
27
42€
Show VAT 0%
Show VAT 24%
Estimated delivery: 12.12
2pcs available at remote stock
Specifications
Description
Store availability
Delivery
Price development
Weight & dimensions
Weight
603 g
Packaging data
Package weight
508 g
Package depth
66.7 mm
Package height
215.9 mm
Package width
780 mm
Package type
Box
Package volume
7685 cm³
Features
Product colour
Blue, Orange
Country of origin
China
Product type
Toy blaster
Recommended age group
Adult
Suggested gender
Boy/Girl
Recommended age (min)
8 yr(s)
Logistics data
Master carton height
227 mm
Master carton width
265 mm
Master carton weight
3.44 kg
Master carton length
511 mm
Quantity per master carton
4 pc(s)
Master carton net weight
2.41 kg
Master carton volume
31000 cm³
EAN
5010993732388
Source: Icecat.biz
Gear up for battle with Nerf Elite 2.0 blasters that feature built-in customizing capabilities so you can upgrade them and seize the advantage in Nerf competitions. Build your stockpile of Nerf Elite 2.0 blasters to optimize your game strategy and bring tactical performance and flexibility to every mission and battle!
The Nerf Elite 2.0 Warden DB-8 blaster fires 2 darts at once to send a double dose of firepower at your targets. It has an 8-dart capacity, so you can launch a series of darts at the competition before reloading. Take advantage of the tactical rail to customize the blaster for every mission or battle. Fire all 8 darts rapidly with pump-action slam-fire! Includes 16 Official Nerf darts -- 8 darts to load into the blaster, and 8 darts for reloading. Fires darts up to 85 feet (26 meters). Eyewear recommended (not included) No batteries required.
Nerf and all related properties are trademarks of Hasbro.
Posti Parcel Point
Estimated delivery time: 11.12
Postal Parcel
Estimated delivery time: 12.12
Parcel to the Doorstep
Estimated delivery time: 12.12
Home Delivered Parcel
Estimated delivery time: 12.12