Asus ROG Orion Pro - Gaming Headset, Black
Asus ROG Orion Pro - Gaming Headset, Black
ID: 90-YAHI9180-UA00-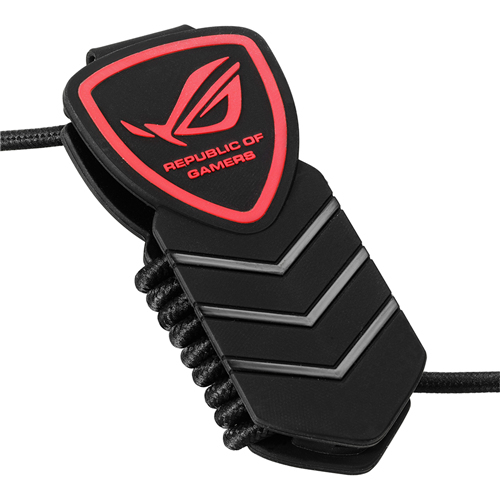 Product unavailable
This product is end of life or currently not available.
Key Specifications
Choose one or multiple features to search for items that have the same specifications.
Specifications
Description
Store availability
Delivery
Price development
Ports & interfaces
Cable length
2.5m
Weight & dimensions
Weight
268g
Packaging data
Cables included
USB
Quick start guide
Headphones
Headphone frequency
20 - 20000 Hz
Impedance
32Ω
Driver unit
5 cm
Magnet type
neodymium
Design
Product colour
Black, Red
Headset type
Binaural
Wearing style
Head-band
Performance
Purpose
PC/Gaming
EAN
4716659266426
Warranty
2 years
Source: Icecat.biz
Win with Style. Perform in Comfort
The Orion PRO full-size gaming headset is designed to provide gaming enthusiasts with the finest audio immersion and positioning needed in any game and at any location. After extensive research and development and taking customer feedback into account, the ROG team concluded that user comfort is key when it comes to gaming headsets. As such, ROG Orion PRO possesses 100mm over-ear cushions for greater comfort, and bring immersive audio with large 50mm neodymium drivers.

ROG Spitfire USB audio processor - powerful driver-free hardware DSP
ROG Orion PRO adds the ROG Spitfire USB audio processor, which works at the hardware level and requires no driver install. Its powerful hardware digital signal processing design contributes to quicker setup in gaming events, and complies with the most professional gaming venues.
The ROG Spitfire provides gamers with easy-reach access to game-enhancing sound technologies: FPS EQ for better audio positioning in first person shooters, 7.1 virtual surround, and headphone amplifier. Each has a dedicated one-click on/off button, with no need to enter any software interface.

FPS mode: take the opposition by surprise
FPS EQ has been developed by analyzing the audio characteristics of several leading first person shooters, with advanced sound algorithms built into the hardware to improve equalization and bring out details with better clarity. Gamers can hear opponent movements, gunfire, call-outs, and other auditory cues with better directional precision, contributing to successful play.

7.1 virtual surround mode: be immersed in the battle
The 7.1 virtual surround mode presents lifelike and distortion-free in-game surround. Its design optimizes surround effects originally not programmed specifically for games, resulting in more natural and balanced enveloping in-game audio.

Headphone amplifier mode: pumps up fine but critical auditory clues
The ROG Spitfire's integrated headphone amplifier features ROG engineering that boosts in-game sound detail, and has been tailor-made to match the tonal performance of ROG gaming headsets, as opposed to off-the-shelf headphone amplifiers.

True to life in-game audio

50mm neodymium magnet driver units
Large 50mm neodymium drivers on Orion PRO have been meticulously fine-tuned to provide dynamic audio positioning. They provide supreme clarity, thundering bass, and extreme low distortion. Powerful and dynamic audio makes the virtual battlefield so real, every action and reflex become lightning-fast second nature.

Retractable noise-filtering microphone
Taking community feedback into account, ROG Orion PRO use a retractable and flexible microphone boom for easier angle adjustment and neat storage when not in use. New microphone noise filtering technology boasts more sensitive voice capture capabilities for clearer in-game communications

Full battlefield focus with effective 30dB noise isolation
Noise ranks as one of the leading issues for gamers, often causing distractions and leading to the wrong decisions - which in turn lower win ratios. The ROG Orion PRO is designed in such a way that the ear cups is covered entirely with large over-ear cushions, offering gamers optimized noise isolation technology ensuring a better gaming sucess rate and audio immersion. It effectively block out disruptions such as environmental noise and human voice, two of the main noisemakers in gaming events. Even tiny noises may mask crucial sound details, so make sure your gaming gear helps you fully immerse in gameplay and catch every sonic clue to make the right call.

Long-lasting comfort and gamer-friendly design

Fine-tuned clamping force
Through extensive research and testing several prototypes, we manage to design the Orion PRO with not only light weight and ergonomic design, but also optimized clamping force for maximum comfort

100mm full size over-ear cushions
ROG designers chose large 100mm over-ear cushions covered in highly-breathable quality leather treatment.

Cable organizer
The ROG Orion PRO includes an easy to use cable organizer for convenient wire management and unsightly entanglement prevention.

2.5m braided cable with gold-plated jacks
The ROG Orion PRO carries a tough braided cable and gold-plated jacks for longer durability and lower distortion. The extended 2.5m long cable also grants gamers extended freedom of movement.

In-line volume control
Easily adjust or mute the volume with a compact, clip-on volume control.

The Republic of Gamers is committed to helping you win more through superior audio power, precise positioning, and lifelike immersion - the perfect aids for those critical online shooter moments. Opposing snipers hide in the dark, taking advantage of cover to keep you suppressed? It's time to get your team on the offensive with powerful and precise battleground audio intelligence - thanks to advanced Xonar sound hardware. No more confusion or uncertainty. Clear audio turns you into a virtual online gaming general, and paves the way to victory.

Superior audio detection and positioning make gamers equipped with ROG audio gear true champions. Developed using real life insight from full-time players and refined by the expertise of the Xonar team, the ultimate goal here is to help you win! Built for the most dedicated gamers, ROG audio products are committed to win-boosting features, from clear communications to precision detection that amplifies every footstep taken by opponents. No more sneaking around or getting stealth-flanked!
No price development information for this product.