Bestway H2OGO! Double Slide - water slide, 4,88m
ID: 52328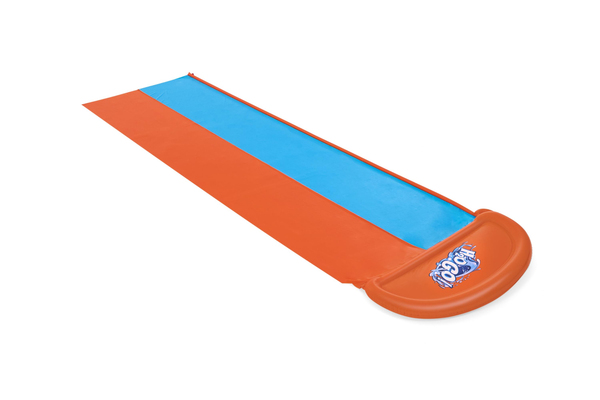 22
00€
17
74€
Show VAT 0%
Show VAT 24%
Estimated delivery: 15.12 - 25.12
On order with ETA after 13.12.2023
Specifications
Description
Store availability
Delivery
Price development
H2OGO!® 16'/4.88m Double Slide

Get ready for a summer of thrilling backyard fun with the new H2OGO!® Double Water Slide. Enjoy a high-speed backyard adventure, as you blast down the slide with our specially designed UltraSlick™ PVC. This innovative material is formulated to create a slide surface that is so slippery it feels friction free, offering more slip and less grip with every slide.

We have combined this with our SplashBoost™ Sprinkler, a system built to provide targeted water coverage to optimize sliding, spraying and splashing. Our H2OGO! slides all have a bonus drench pool at the finish line. Kids will love the hours of fun that the H2OGO!

Slides provide, and parents will enjoy the simple setup - just connect a garden hose and start sliding! Our technology has revived the backyard slide, making slides faster, wetter and more fun all summer long!
Posti Parcel Point
Estimated delivery time: 14.12 - 24.12
Postal Parcel
Estimated delivery time: 15.12 - 25.12
Parcel to the Doorstep
Estimated delivery time: 15.12 - 24.12
Home Delivered Parcel
Estimated delivery time: 15.12 - 24.12