DUPLO - Havets Vilda Djur 1097
ID: 10972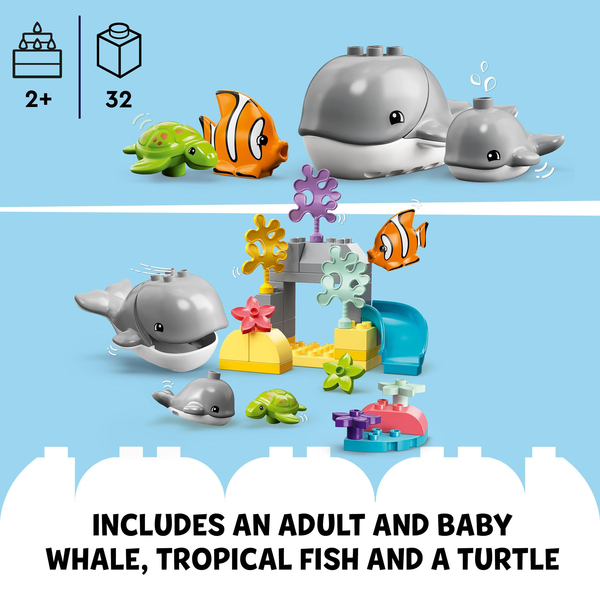 18
00€
14
52€
Show VAT 0%
Show VAT 24%
Estimated delivery: 03.10
3pcs available at remote stock
Specifications
Description
Store availability
Delivery
Price development
Take animal-loving toddlers on an imaginative journey to the bottom of the sea with the LEGO DUPLO Wild Animals of the Ocean (10972) toy for toddlers aged 2+ years old featuring fun sea animal toy figures.

Let young imaginations dive deep under the sea to meet and play with adult and baby whale toys, tropical fish and a cute turtle toy in their natural environment. With a fun water slide and a foldable, 3-dimensional ocean-floor playmat to explore, there's plenty to inspire imaginative play and build essential developmental skills in your little ocean explorer.

LEGO DUPLO animal sets are playful educational toys for toddlers 2 + years old. They are expertly designed with fun narratives, bright colours, diverse characters and lots of details to give your little learner a BIG start in life.
Posti Parcel Point
Estimated delivery time: 02.10
Postal Parcel
Estimated delivery time: 03.10
Parcel to the Doorstep
Estimated delivery time: 03.10
Home Delivered Parcel
Estimated delivery time: 03.10