Ninjago - Crystal King 71772
ID: 71772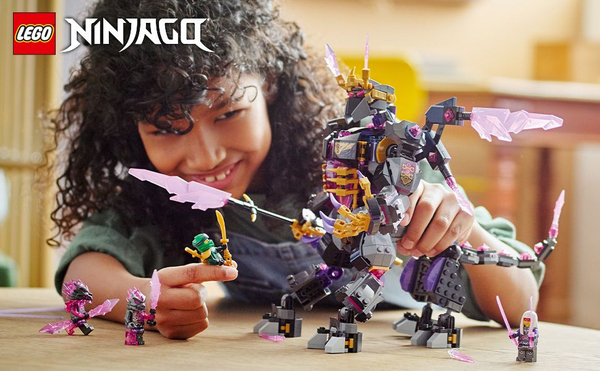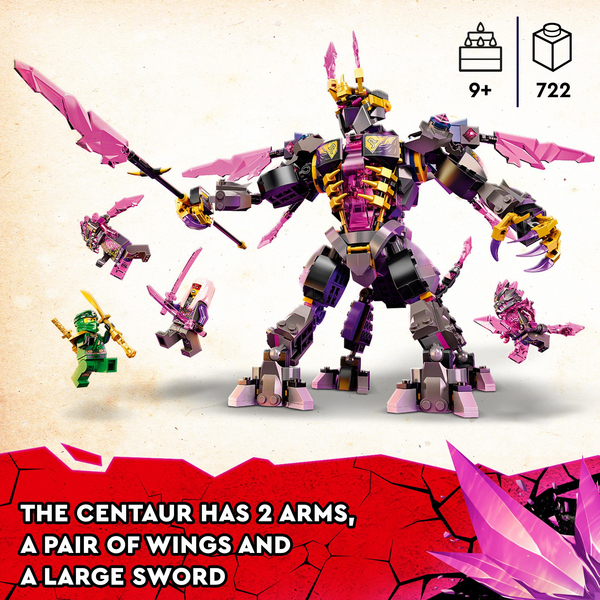 69
00€
55
65€
Show VAT 0%
Show VAT 24%
Estimated delivery: 13.10 - 23.10
On order with ETA after 11.10.2023
Specifications
Description
Store availability
Delivery
Price development
Kids can enjoy playing out gripping scenes from the NINJAGO: Crystallized TV series with The Crystal King (71772) playset. An awesome birthday gift idea for kids aged 9 and up.

This fun-filled LEGO NINJAGO set features a large ready-for-action The Crystal King figure and comes with 5 NINJAGO minifigures: an exclusive, never-seen-before Lloyd, The Crystal King, Harumi, Vengestone Guard and Vengestone Warrior, all armed with LEGO ninja weapons for kids to play out clashes in NINJAGO City. The large Crystal King comes in the form of a Centaur creature with 4 legs, 2 arms, a pair of wings, a large sword and a platform in the chest to attach a minifigure. Quick! Lloyd is on his own and needs help! Kids charge into battle to take on The Crystal King, who has transformed himself into a terrifying Centaur creature. They need to watch out for his large sword and the 3 dangerous warriors by his side. They might be outnumbered, but it is crucial to repel their invasion of NINJAGO City. Be Brave! Be Ninja!

The playset comes with interactive digital building instructions to make the building experience even more fun. Available in the free LEGO Building Instructions app for use on smartphones and tablets, the zoom and rotate tools help kids visualise the model as they build. Builders can also save their progress at any point on the app. With LEGO NINJAGO toys kids can choose from a large selection of dragons, figures, temples, mechs and vehicles to enjoy the fun with their ninja heroes.

Measuring over 10 in. (26 cm) high, 12 in. (30 cm) long and 15.5 in. (40 cm) wide, The Crystal King can be displayed as a showpiece in any kid's bedroom

Contains 722 pieces.
Posti Parcel Point
Estimated delivery time: 12.10 - 22.10
Postal Parcel
Estimated delivery time: 13.10 - 23.10
Parcel to the Doorstep
Estimated delivery time: 13.10 - 22.10
Home Delivered Parcel
Estimated delivery time: 13.10 - 22.10