ART - Blomkonst 31207
ID: 31207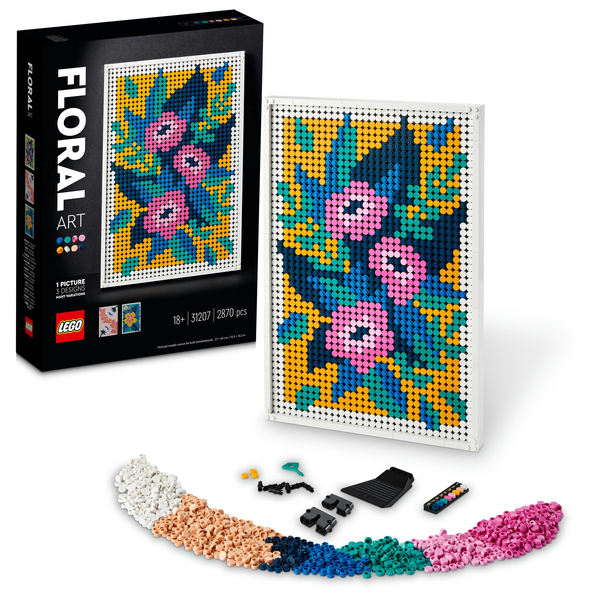 69
00€
55
65€
Show VAT 0%
Show VAT 24%
Estimated delivery: 11.10 - 21.10
On order with ETA after 09.10.2023
Specifications
Description
Store availability
Delivery
Price development
Open botanical creativity awaits in this LEGO Art Floral Art (31207) 3in1 wall kit. Spark your joy with a gorgeous, handmade project bringing bold colours and design possibilities into your home as you build.

With this LEGO Flower arts and crafts set for adults, you can let your imagination bloom with your own motif. Enjoy a zone of joyful zen filled with flowers, peace and stress relief as you click each piece into place. With 1 picture, 3 choices and many artistic possibilities you will discover the creative options inside as soon as you open the box. Choose the LEGO flowers and colour variants, then design, create and show them off. Finish the flower wall art with a brick-built frame in white, then display it with pride on a wall or shelf.

This botanical creative activity makes a fab gift idea for budding artists, flower lovers and all adult LEGO fans. Welcome to your zone of creativity. Welcome to LEGO sets for adults. A space to relax and build detailed decor pieces that pay homage to the worlds of art, nature, entertainment, travel, gaming, sports, science, technology, motorsports and history.
Posti Parcel Point
Estimated delivery time: 10.10 - 20.10
Postal Parcel
Estimated delivery time: 11.10 - 21.10
Parcel to the Doorstep
Estimated delivery time: 11.10 - 20.10
Home Delivered Parcel
Estimated delivery time: 11.10 - 20.10