Lego Quetzalcoatlus Flygplansattack 76947
ID: 76947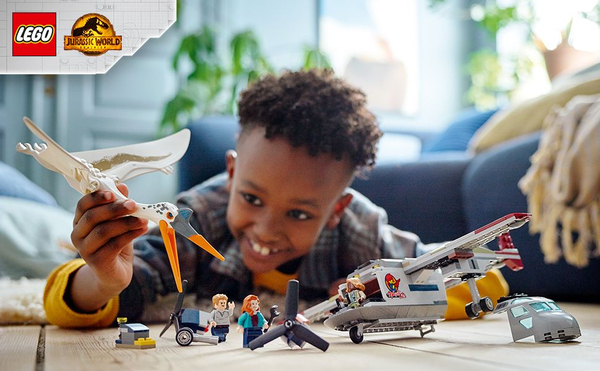 48
00€
38
71€
Show VAT 0%
Show VAT 24%
Estimated delivery: 11.10 - 21.10
On order with ETA after 09.10.2023
Specifications
Description
Store availability
Delivery
Price development
Relive thrilling flying action from the Jurassic World: Dominion movie with this Quetzalcoatlus Plane Ambush (76947) dinosaur toy playset for kids aged 7 and up.

With this toy plane building set, kids can roleplay exciting scenarios. The set includes 3 LEGO minifigures - Owen Grady, Claire Dearing and Kayla Watts, and the Quetzalcoatlus dinosaur figure with posable wings and a snapping beak. The cool aeroplane toy has space for all 3 minifigures in its cockpit, plus spinning propellers, opening cargo hold and engines designed to break off under attack by the posable Quetzalcoatlus figure (the engines reattach easily). A buildable fire extinguisher, flashlight and wrench accessory elements complete the set and open up young builders to the world of imagination as they roleplay repairing the plane after the attack.

This LEGO Jurassic World dinosaur toy playset includes easy-to-follow instructions that let kids read and build independently and with confidence, offering hours of fun for kids, their parents, older siblings and friends to build together and recreate iconic scenes from the Jurassic World animated series. This cool set combines brilliantly with Jurassic World Atrociraptor Dinosaur: Bike Chase set (76945) for even more action and is an ideal gift for children from 7 years old and up, perfect for beginners and all young dinosaurs fans.
Posti Parcel Point
Estimated delivery time: 10.10 - 20.10
Postal Parcel
Estimated delivery time: 11.10 - 21.10
Parcel to the Doorstep
Estimated delivery time: 11.10 - 20.10
Home Delivered Parcel
Estimated delivery time: 11.10 - 20.10