Lego Velociraptorit Blue ja Beta jäävät kiikkiin 76946
ID: 76946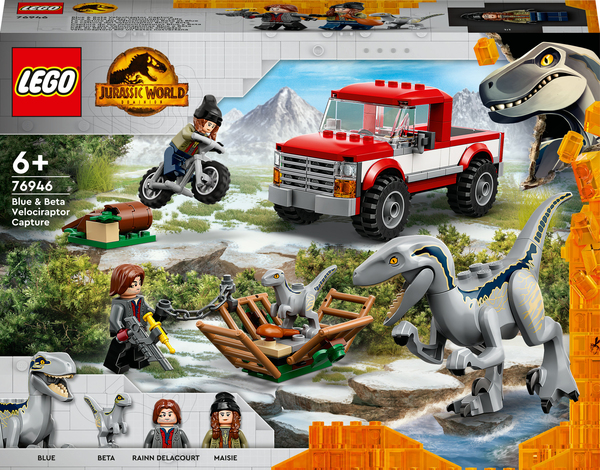 32
00€
25
81€
Show VAT 0%
Show VAT 24%
Estimated delivery: 11.10 - 21.10
On order with ETA after 09.10.2023
Specifications
Description
Store availability
Delivery
Price development
Kids who are into dinosaurs and cool vehicles will love this LEGO Jurassic World Blue & Beta Velociraptor Capture (76946) dinosaur toy set. Inspired by a thrilling scene in the Jurassic World: Dominion movie, it features a buildable toy truck, bike and a dinosaur cage with a trap function and chicken drumstick accessory element for dinosaur bait.

This cool dinosaur toy set includes 2 minifigures: Rainn Delacourt with a tranquilizer gun accessory and Maisie. The posable Velociraptor 'Blue' dinosaur toy - with movable legs, arms and head - and Beta dinosaur figure allow for hours of thrilling live role-play. The set includes a chicken drumstick accessory element you can use as bait to catch the Velociraptor Beta and place the dinosaur in the cage, attached to the truck, while driving the other dinosaur - Blue - away with the bike. All with the help of Maisie and Rainn Delacourt!

This LEGO Jurassic World dinosaur toy includes easy-to-follow instructions that let kids build independently and with confidence. This set combines brilliantly with other LEGO Jurassic World construction toys for even more action and is an ideal gift for kids aged 6+, perfect for beginners and all young dinosaurs & toy vehicle fans.
Posti Parcel Point
Estimated delivery time: 10.10 - 20.10
Postal Parcel
Estimated delivery time: 11.10 - 21.10
Parcel to the Doorstep
Estimated delivery time: 11.10 - 20.10
Home Delivered Parcel
Estimated delivery time: 11.10 - 20.10