Lego Jurassic World - Atrociraptor Cykeljakt 76945
ID: 76945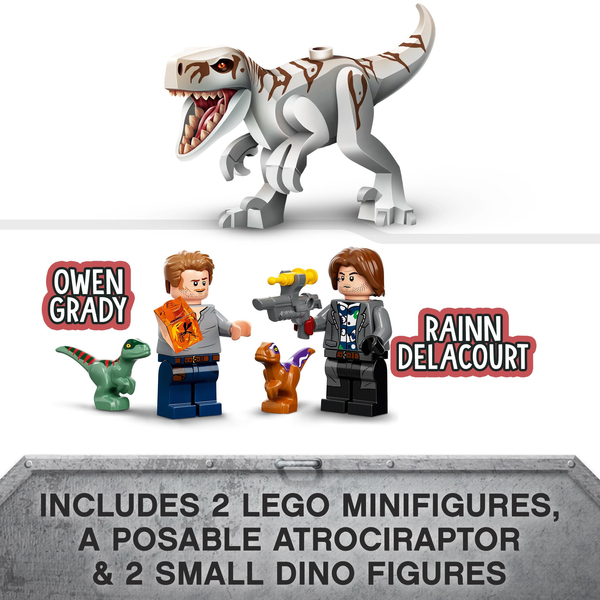 19
00€
15
32€
Show VAT 0%
Show VAT 24%
Estimated delivery: 15.10 - 25.10
On order with ETA after 13.10.2023
Specifications
Description
Store availability
Delivery
Price development
Fans can recapture the excitement of the Jurassic World: Dominion movie with this Atrociraptor Dinosaur: Bike Chase (76945) toy playset. Let kids create their own action-packed scenarios with Owen Grady and the team and see the story unfold.

This exciting dinosaur toy lets children roleplay awesome hunt and escape scenes. The dinosaur playset includes Owen Grady and Rainn Delacourt LEGO Jurassic World minifigures with a tranquilizer accessory. It also features a posable Atrociraptor toy figure, 2 small dinosaur figures, a toy motorbike, and a brick-built market with an easy-to-reset collapsible wall and rotating dinosaur fighting pit. Everything you need to create your own Jurassic World: Dominion scene. There are step-by-step instructions so even beginners can enjoy the building process, and the set combines perfectly with T. rex & Atrociraptor Dinosaur Breakout (76948) for even more action.

LEGO Jurassic World dinosaur playsets feature buildable dinosaur figures, minifigures and detailed vehicles to relive scenes from the movies and animated series, play out original stories and when the play is done, build and display the collectible models. The sets make an ideal birthday gift or any time treat for children from 6 years old and up.
Posti Parcel Point
Estimated delivery time: 14.10 - 24.10
Postal Parcel
Estimated delivery time: 15.10 - 25.10
Parcel to the Doorstep
Estimated delivery time: 15.10 - 24.10
Home Delivered Parcel
Estimated delivery time: 15.10 - 24.10