Lego Lightyear - Zyclopsjakt 76830
ID: 76830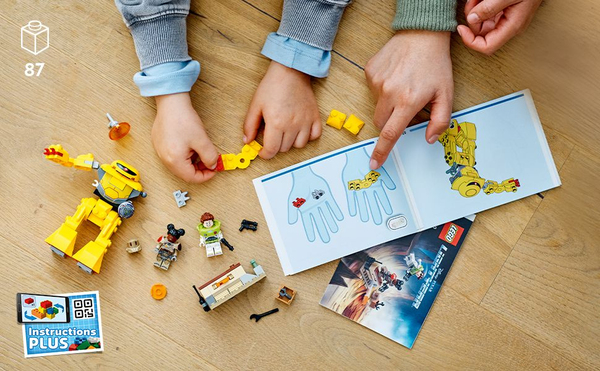 23
00€
18
55€
Show VAT 0%
Show VAT 24%
Estimated delivery: 25.10 - 04.11
On order with ETA after 23.10.2023
Specifications
Description
Store availability
Delivery
Price development
Know a Space-Ranger-in-training who loves Buzz Lightyear? Make their day with this Zyclops Chase (76830) space toy for kids 4+ years old. Fans can recreate scenes from the Disney and Pixar film Lightyear – the definitive origin story of Buzz Lightyear toy – as they learn to build with LEGO zone bricks. LEGO Buzz Lightyear minifigure wears a spacesuit and helmet, and the yellow mech action figure's cool features include posable arms and legs and a disc shooter for dynamic battle fun.

LEGO 4+ sets come with clever features for a fun play experience. The Starter Brick provides a sturdy base for building, and there's a figure or minifigure in each bag of bricks so the role play can start before the set is completely built.

LEGO Disney buildable toys for kids age 4+ let adults share the building fun with kids. Grown-ups new to LEGO building needn't worry – this collectible Buzz Lightyear robot toy playset comes with pictorial instructions, making the process easy, even for children who are only just starting to read.
Posti Parcel Point
Estimated delivery time: 24.10 - 03.11
Postal Parcel
Estimated delivery time: 25.10 - 04.11
Parcel to the Doorstep
Estimated delivery time: 25.10 - 03.11
Home Delivered Parcel
Estimated delivery time: 25.10 - 03.11