Lego Star Wars - The Mandalorian N-1 Starfighter 75325
ID: 75325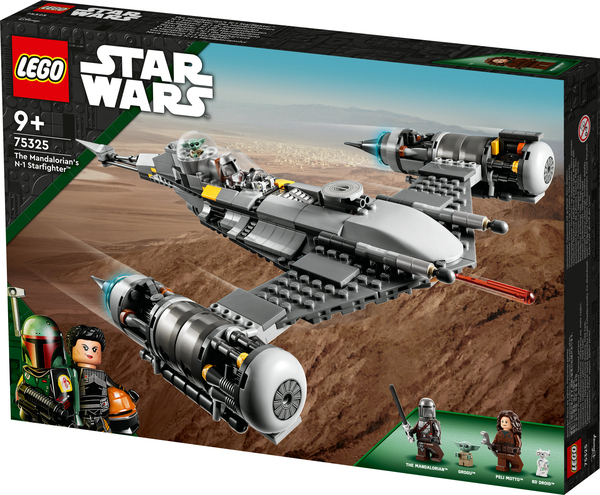 69
00€
55
65€
Show VAT 0%
Show VAT 24%
Estimated delivery: 04.10 - 09.10
3pcs available at remote stock
Specifications
Description
Store availability
Delivery
Price development
Tatooine tales from Star Wars: The Book of Boba Fett come to life for young builders with this LEGO brick model of The Mandalorian's N-1 Starfighter (75325) building toy for kids 9 plus years old. The Mandalorian Starfighter buildable model features a minifigure cockpit, passenger space for the included Grogu figure (affectionately known as 'Baby Yoda'), a cargo compartment, a spring-loaded shooter and realistic details.

This LEGO Star Wars set also includes a LEGO minifigure of The Mandalorian, complete with Jetpack and darksaber accessories, a Peli Motto minifigure with a wrench tool to make any repairs to the Starfighter, plus LEGO figures of Baby Yoda and a BD Droid to help with the repairs. The Mandalorian buildable toy for kids 9+ years old also includes step-by-step, illustrated building instructions. Check out the LEGO Building Instructions app, with intuitive zoom and rotate viewing tools to add another dimension to the creative experience.

The LEGO Group has been creating brick-built versions of iconic starships, vehicles, locations and characters from the Star Wars universe since 1999. A vast array of buildable models for play and display will excite fans of all ages and make exquisite Star Wars gifts, birthday presents or any time treats for kids.
Posti Parcel Point
Estimated delivery time: 03.10 - 08.10
Postal Parcel
Estimated delivery time: 04.10 - 09.10
Parcel to the Doorstep
Estimated delivery time: 04.10 - 08.10
Home Delivered Parcel
Estimated delivery time: 04.10 - 08.10