Lego Ninjago - Kais elddrake EVO 71762
ID: 71762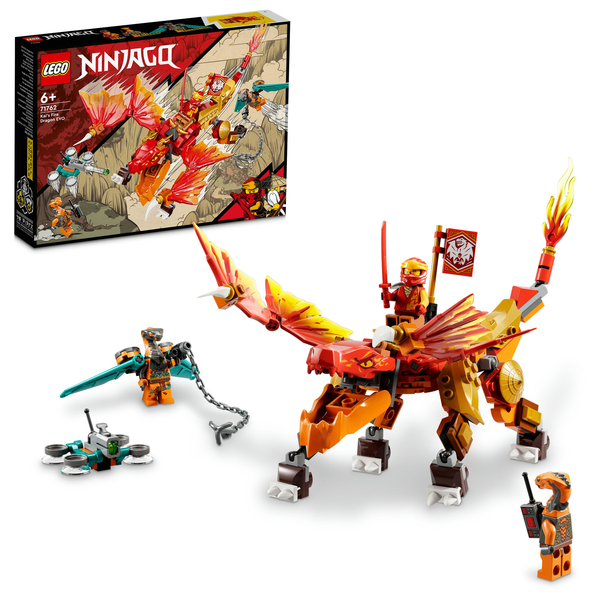 32
00€
25
81€
Show VAT 0%
Show VAT 24%
Estimated delivery: 11.10 - 21.10
On order with ETA after 09.10.2023
Specifications
Description
Store availability
Delivery
Price development
Give kids everything they need to enjoy action-packed ninja adventures with LEGO NINJAGO Kai's Fire Dragon EVO (71762) buildable set. The dragon toy figure features a posable jaw, head, tail and legs and can also be upgraded twice to make it bigger, stronger and quicker.

This ninja playset includes 3 NINJAGO minifigures: Kai armed with a sword and 2 NINJAGO snake warriors - Boa Destructor controlling a shooting drone, and Cobra Mechanic with a jetpack and a gun that fires out a chain. New for January 2022, when kids defeat the ninja enemies and complete their mission, they are rewarded with a collectible banner.

NINJAGO toys and figures lure kids away from their screens and into an enthralling world of fantasy action. Here they can team up with their brave ninja heroes to battle the forces of evil through an extensive collection of building sets, including mech action figures, dragons and ninja temples. NINJAGO toys also make fabulous birthday toy gifts for kids 6 + years old who are into ninjas and battles.
Posti Parcel Point
Estimated delivery time: 10.10 - 20.10
Postal Parcel
Estimated delivery time: 11.10 - 21.10
Parcel to the Doorstep
Estimated delivery time: 11.10 - 20.10
Home Delivered Parcel
Estimated delivery time: 11.10 - 20.10