Lego City Great Vehicles - Mobilkran 60324
ID: 60324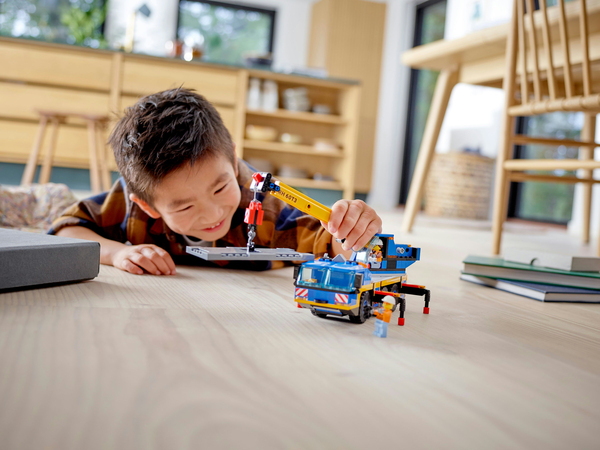 43
00€
34
68€
Show VAT 0%
Show VAT 24%
Estimated delivery: 11.10 - 21.10
On order with ETA after 09.10.2023
Specifications
Description
Store availability
Delivery
Price development
Here's a great playset for kids with a fascination for construction vehicles. The LEGO City Mobile Crane (60324) truck toy for kids 7 + years old is packed with authentic features and functions. They can lower the support legs, rotate and extend the boom and raise and lower the winch. Just add the toy crane operator and driver minifigures for hours of realistic role play. The set includes a LEGO City Road Plate for easy connection to other sets.


This construction vehicle building set comes with a printed building guide and digital building instructions. Available in the free LEGO Building Instructions app for smartphones and tablets, the amazing step-by-step interactive guide allows kids to zoom, rotate and visualise the finished model from all angles as they build.


LEGO City Great Vehicles building sets make great gifts for boys and girls. Children get to explore all kinds of cool vehicles and create stories and scenarios that depict real life in a fun and exciting way.
Posti Parcel Point
Estimated delivery time: 10.10 - 20.10
Postal Parcel
Estimated delivery time: 11.10 - 21.10
Parcel to the Doorstep
Estimated delivery time: 11.10 - 20.10
Home Delivered Parcel
Estimated delivery time: 11.10 - 20.10