Lego Technic - Terrängfordon 42139
ID: 42139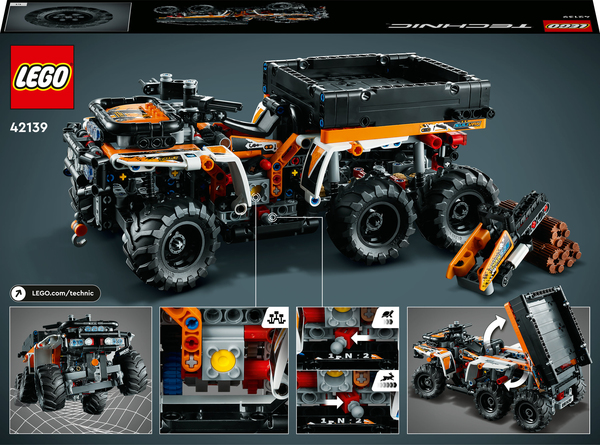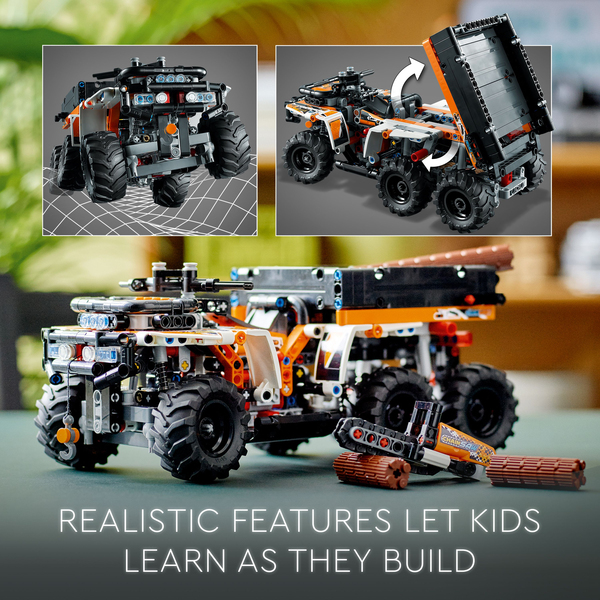 89
00€
71
77€
Show VAT 0%
Show VAT 24%
Estimated delivery: 13.10 - 23.10
On order with ETA after 11.10.2023
Specifications
Description
Store availability
Delivery
Price development
Inquisitive kids will love building and playing with this detailed LEGO Technic All-Terrain Vehicle (42139) truck toy for kids 10+ years old. The first 6-wheeled LEGO off roader ATV is packed with features, just like a real ATV. Check out the steering and suspension, then explore the gearbox and engine with moving pistons and a cargo bed that tips – ready for lifting and transporting heavy loads.

This ATV model truck toy comes with a toy chainsaw – complete with a true-to-life rotating chain. The 20 small log elements join to make large logs, making it perfect for kids and adults to enjoy creative play together. Kids will love using the chainsaw and 'chopping' the log accessory pieces.

LEGO Technic construction sets feature realistic movement and mechanisms that introduce young LEGO builders to the universe of great vehicles in a realistic way. Construction vehicle toys are a great introduction to engineering and gift ideas for kids who love functioning models.
Posti Parcel Point
Estimated delivery time: 12.10 - 22.10
Postal Parcel
Estimated delivery time: 13.10 - 23.10
Parcel to the Doorstep
Estimated delivery time: 13.10 - 22.10
Home Delivered Parcel
Estimated delivery time: 13.10 - 22.10