Lego Classic - Vit basplatta 11026
ID: 11026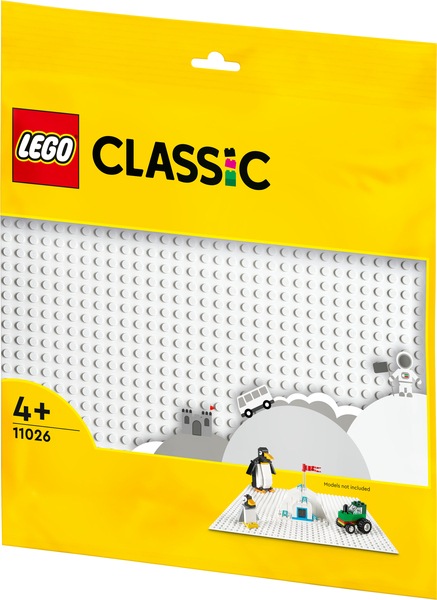 10
00€
8
06€
Show VAT 0%
Show VAT 24%
Estimated delivery: 21.10 - 31.10
On order with ETA after 19.10.2023
Specifications
Description
Store availability
Delivery
Price development
Lay the foundations for open-ended, imaginative play with the LEGO Classic White Baseplate (11026) building plate. Measuring over 9.5 in. (25cm) square, this bright white LEGO toy-building base board gives kids a spacious 32x32-stud LEGO landscape on which to build, play and display.

Inspire LEGO builders with a dazzling array of building possibilities – from frozen lakes to Arctic landscapes, sunny ski slopes to winter wonderlands. And who says the base should be at the bottom? This quality LEGO base plate has enough grip to hold LEGO building bricks at any angle, even upside down! And when the building stops, the firm-grip baseplate gives kids a collapse-free way to transport and display their creations.

LEGO Classic sets put self-expression and open-ended play into kids' hands. And as they build, create and imagine, their free-thinking and problem-solving skills keep on growing!
Postal Parcel
Estimated delivery time: 21.10 - 31.10
Parcel to the Doorstep
Estimated delivery time: 21.10 - 30.10
Posti Parcel Point
Estimated delivery time: 20.10 - 30.10
Home Delivered Parcel
Estimated delivery time: 21.10 - 30.10