Lego Classic - Kreativt havsskoj 11018
ID: 11018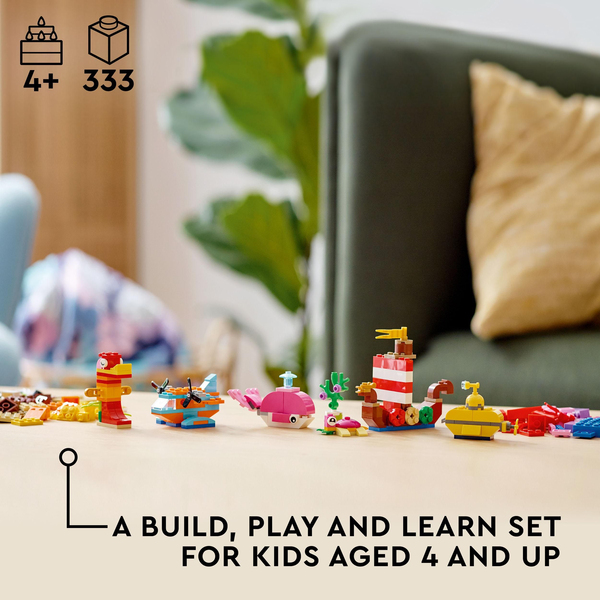 19
00€
15
32€
Show VAT 0%
Show VAT 24%
Estimated delivery: 14.10 - 24.10
On order with ETA after 12.10.2023
Specifications
Description
Store availability
Delivery
Price development
Introduce youngsters to the open-ended world of imaginative play with the LEGO Classic Creative Ocean Fun (11018) creative construction toy for kids 4+ years old, featuring a colourful selection of LEGO pieces and 6 inspiring ocean-themed build ideas to kick-start the fun, plus 2 bags of extra bricks for free building.

Inspiring build ideas for children aged 4 and up
Includes step-by-step, pictorial instructions for kids to create a LEGO yellow submarine, seahorse, whale, turtle, a toy Viking ship, and an underwater drone. Even first-time builders can experience the pride and joy of constructing their own LEGO toys.

LEGO Classic sets and kids building toys are packed with ideas and inspiration to stimulate unlimited, open-ended play, helping children develop important creative skills that will last a lifetime.
Posti Parcel Point
Estimated delivery time: 13.10 - 23.10
Postal Parcel
Estimated delivery time: 14.10 - 24.10
Parcel to the Doorstep
Estimated delivery time: 14.10 - 23.10
Home Delivered Parcel
Estimated delivery time: 14.10 - 23.10