Lego Duplo - Läkarbesök 10968
ID: 10968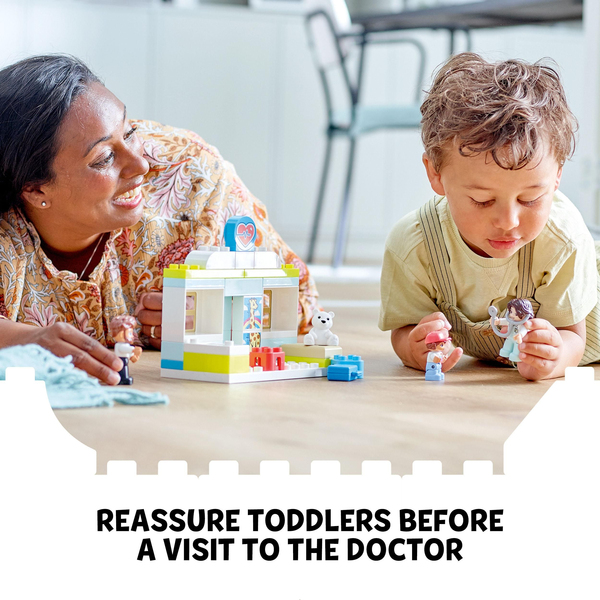 19
00€
15
32€
Show VAT 0%
Show VAT 24%
Estimated delivery: 14.10 - 24.10
On order with ETA after 12.10.2023
Specifications
Description
Store availability
Delivery
Price development
Little doctors and nurses will love the fun activities and friendly physician that feature in LEGO DUPLO Rescue Doctor Visit (10968) early learning toy for toddlers 2+ year olds. This versatile playset is also an excellent way to prepare preschool kids for a visit to the doctor!

Introduce youngsters to the fun activities that occur at a health clinic. The friendly doctor uses a flexible stethoscope (permanently attached) to listen to the child's heart – and the child's top features a heart motif; there's a giraffe height chart on the wall; a sink to wash hands in; and chairs where Dad can sit. This playset is all about the importance of good health and caring behaviour, which makes it ideal for developing kids' social and emotional skills.

Parents can share precious developmental milestones as LEGO DUPLO educational toys for preschool kids 2+ years old put open-ended fun, self-expression and joyful exploration into young children's hands.
Posti Parcel Point
Estimated delivery time: 13.10 - 23.10
Postal Parcel
Estimated delivery time: 14.10 - 24.10
Parcel to the Doorstep
Estimated delivery time: 14.10 - 23.10
Home Delivered Parcel
Estimated delivery time: 14.10 - 23.10