BaByliss hairdryer
ID: 6000E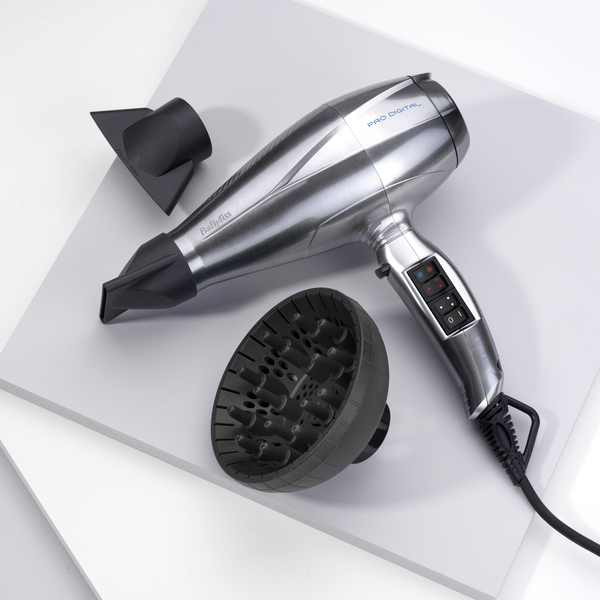 129
00€
104
03€
Show VAT 0%
Show VAT 24%
Estimated delivery: 09.06 - 19.06
On order with ETA after 07.06.2023
Specifications
Description
Store availability
Delivery
Price development
Weight & dimensions
Weight
450 g
Height
270 mm
Width
205 mm
Depth
92 mm
Energy management
Power
2200 W
Packaging data
Package weight
1.1 kg
Package depth
100 mm
Package height
315 mm
Package width
262 mm
Package type
Box
Quantity per pack
1 pc(s)
Packaging content
Concentrator nozzle
Diffuser nozzle
Battery
Battery technology
Nickel-Metal Hydride (NiMH)
Design
Wall mountable
Product colour
Grey, Silver
Country of origin
Italy
Foldable handle
Cord length
2.8 m
Removable filter
Built-in display
Hangable
Hanging type
Hanging loop
Performance
Number of speeds
2
Cool shot function
Number of heating levels
3
Ionic function
Motor speed
22000 RPM
Turbo
Auto power off
Motor type
AC
Filtering
Logistics data
Products per pallet
252 pc(s)
Number of cartons per pallet
42 pc(s)
Number of layers per pallet
6 pc(s)
Master carton height
280 mm
Master carton width
300 mm
Number of cartons per pallet layer
6 pc(s)
Master carton weight
4.5 kg
Pallet weight
272.2 kg
Pallet width
80 cm
Pallet length
120 cm
Pallet height
2.09 m
Pallet volume
2006 dm³
Master carton length
500 mm
Quantity per master carton
6 pc(s)
Pallet GTIN (EAN/UPC)
43030050112397
Master carton GTIN (EAN/UPC)
23030050112393
Master carton volume
420 cm³
EAN
3030050112399
Source: Icecat.biz
BaByliss has stretched the performance limits and created the brand new revolutionary hair dryer Pro Digital with a digital motor that generates a maximum air flow of 208 km/h!

Pro Digital is electronically controlled, which gives a 10 times longer life than a traditional hair dryer and with a constant effective temperature of 70°C, it gives the hair maximum protection by maintaining its natural moisture level.

The high level of ions created by the hair dryer neutralizes the static electricity that sometimes occurs when you blow dry your hair. The effect is enhanced by leave-in products and the hair becomes smoother, softer and shinier.

BaByliss Pro Digital has the thinnest nozzle on the market (4 mm) for an exact flow of air. The high air speed in combination with the air pressure from the nozzle ensures an efficient and optimal styling.

The high airflow performance ensures efficient drying, even at moderate temperatures.
Posti Parcel Point
Estimated delivery time: 08.06 - 18.06
Postal Parcel
Estimated delivery time: 09.06 - 19.06
Parcel to the Doorstep
Estimated delivery time: 09.06 - 18.06
Home Delivered Parcel
Estimated delivery time: 09.06 - 18.06