B.WELL Thermometer WF-4000
ID: 1101313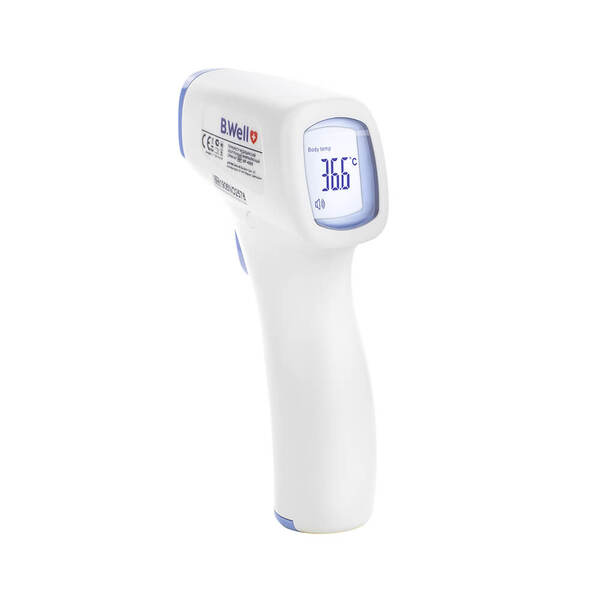 38
00€
30
65€
Show VAT 0%
Show VAT 24%
Estimated delivery: 08.06 - 09.06
40+pcs available at remote stock
Specifications
Description
Store availability
Delivery
Price development
Non-contact infrared thermometer WF-4000
3 in 1: versatile
1 second measurement
Contact free measurement
Backlit display
Fever alarm with special beep
Memory for 32 measurements
3 in 1: versatile
Measures the temperature of a human body, water, air and objects. Replaces several thermometers, allowing not only monitoring body temperature, but also knowing the temperature of water in a bath, air in a room or outdoors, and baby food before feeding.
1 second measurement
It is enough to point the thermometer to the center of the forehead, press the button and the accurate results will appear instantly.
Contact free measurement
Without disturbing a sleeping child or an infant.
0-110°С – Measurement range
Wide measurement range from 0 to 110 0C for the body, air or liquid temperature monitoring.
Made of safe materials
Thermometer is made of safe plastic and contains no mercury or glass.
Backlit display
Backlit display enables measuring even at night. Soft luminescence ensures comfort for the eyes and allows to see the temperature readings easily.
Package
Thermometer
Battery
Soft storage bag
Instruction manual
Posti Parcel Point
Estimated delivery time: 07.06 - 08.06
Postal Parcel
Estimated delivery time: 08.06 - 09.06
Parcel to the Doorstep
Estimated delivery time: 08.06
Home Delivered Parcel
Estimated delivery time: 08.06