Qnect IP Camera, 2MP, Pan & Tilt, IR, WiFi
Qnect IP Camera, 2MP, Pan & Tilt, IR, WiFi
Manufacturer: QNECT
ID: SH-IPC02-QNE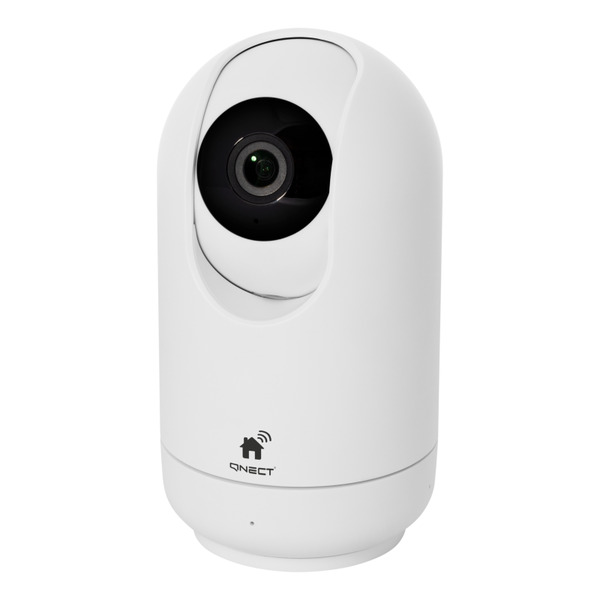 36

,00 €
29

,03 €
Show VAT 0%
Show VAT 24%
Online store:

40+ pcs
Estimated delivery: 09.07 - 11.07
Specifications
Description
Store availability
Delivery
Price development
SH-IPC02-QNE is a wireless PTZ network camera that can be placed in your home or office to give you control over what happens when you are away.
The camera has a resolution of 1080p and an IR range of up to 10m to see objects even in the dark. In order for SH-IPC03-QNE to record material, there is a microSD card slot where everything is stored on a memory card.
The camera also supports two-way audio which means it has both speakers and microphone which can be convenient if you are at a distance and need to communicate with someone who is near the camera.
The Pan / Tilt function can be controlled up to 355 degrees horizontally and 80 degrees vertically either manually or with motion detection where the camera follows a moving object.
With the QNECT SMART HOME app you take care of all the handling for the camera. Installation is quick and easy, all you need is a functioning wireless network, ie. no special hubs or gateways.
In the QNECT SMART HOME app, in addition to managing all settings, you can also enable motion detection, either to be on all the time or to schedule the camera to be active at certain times of the day.
You also handle previous recordings made by the camera or you can take a screenshot or record real-time video stored on your phone.
The QNECT SMART HOME app is of course available for free download for both Android and iOS.
Posti Parcel Point
Estimated delivery time: 08.07 - 10.07
Postal Parcel
Estimated delivery time: 09.07 - 11.07
Parcel to the Doorstep
Estimated delivery time: 09.07 - 10.07
Home Delivered Parcel
Estimated delivery time: 09.07 - 10.07