INSMAT KEVO 320 BINAURAL
INSMAT KEVO 320 BINAURAL
ID: 565-4020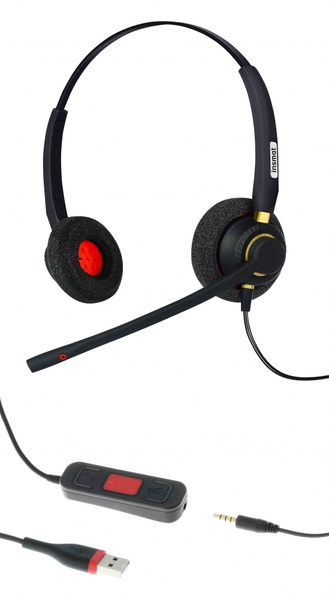 59

,00 €
47

,58 €
Show VAT 0%
Show VAT 24%
Online store:

6 pcs
Estimated delivery: 24.08 - 26.08
Specifications
Description
Store availability
Delivery
Price development
Ports & interfaces
Connectivity technology
Wired
Bluetooth
USB connectivity
3.5 mm connector
Microphone
Noise-canceling
Microphone type
Boom
Headphones
Headphone sensitivity
118 dB
Ear coupling
Supraaural
Performance
Product colour
Black
Volume control
Digital
Headset type
Binaural
Wearing style
Head-band
Recommended usage
Office/Call center
Product type
Headset
EAN
6438300010605
Source: Icecat.biz
The Best-in-class Standard in Performance and Comfort
The Kevo is an all-new generation of headsets for customer service centres and office, designed for the future, and built on experience. It incorporates all-day comfort, superior noise-cancelling technology and a long term reliability.

Elegant Design and Luxurious Comfort
Adjustable headband and bendable click-stop microphone boom arm work to enhance comfort.
Premium nylon composite materials provide an ultralight weight design.
Soft and comfortable foam/leatherette ear cushion.

Exceptional Audio
The ultra-noise-cancelling microphone provides the highest degree of background noise elimination in any of our headsets.
Wideband audio lets you have lifelike, vibrant conversations and reduces listening fatigue.
Sound protection technology protects hearing agents sound above 118dB.

Long-term Reliability
Metal joints are engineered to provide reliability where it matters.
Reinforced cord and rebust design are built to withstand the call-intensive environment, minimising operational disruptions and costly downtime.
Posti Parcel Point
Estimated delivery time: 23.08 - 25.08
Postal Parcel
Estimated delivery time: 24.08 - 26.08
Parcel to the Doorstep
Estimated delivery time: 24.08 - 25.08
Home Delivered Parcel
Estimated delivery time: 24.08 - 25.08