Netatmo Smart Radiator Valves 3-pack
Netatmo Smart Radiator Valves 3-pack
ID: NBU-NAV-EU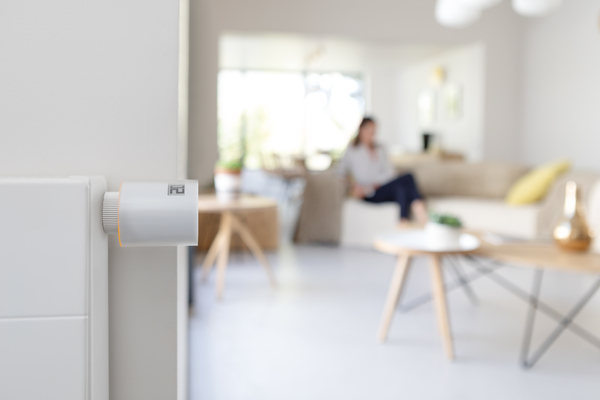 Product is end of life or currently not available. Please contact our customer service for more information regarding this product.
Currently not available
Estimated delivery: Unknown
Specifications
Description
Store availability
Delivery
Price development
Display
Built-in display
Weight & dimensions
Weight
145 g
Depth
80 mm
Diameter
5.8 cm
Energy management
Battery type
AA
Number of batteries supported
2
Battery voltage
1.5 V
Batteries required
Packaging data
Package weight
417 g
Package depth
71 mm
Package height
156 mm
Package width
123 mm
Package type
Box
Packaging content
Manual
Batteries included
Number of products included
3 pc(s)
Features
Operating temperature (T-T)
0 - 50 °C
Wireless range
100 m
Wireless connection
Product colour
White
Operating frequency
2400 MHz
Wi-Fi
Easy to install
Accuracy
0.5 °C
Remotely operated
Multi-Zone capability
Mobile operating systems supported
Android, Android 4.2, Android 4.2.1, Android 4.2.2, Android 4.3, Android 4.4, Android 5.0, Android 5.1, Android 6.0, Android 7.0, Android 7.1, iOS, iOS 10.0, iOS 11.0, iOS 11.4, iOS 12, iOS 13, iOS 9.0, iOS 9.1, iOS 9.2, iOS 9.3, iPadOS
Temperature measurement units
°C
Smartphone remote support
Holiday function
Easy to use
Scheduler function
Temperature control range
0 - 50 °C
Smart thermostat
Suitable for indoor use
Temperature setpoint range
5 - 30 °C
Temperature increment
0.5 °C
Open-window function
Logistics data
Country of origin
China
EAN
3700730503433
Warranty
2 years
Source: Icecat.biz
Adjust the temperature of each room to suit your needs
Heat your home to just the right temperature, where and when you need it. Control the temperature even more closely with Additional Radiator Valves and the room-by-room heating schedule. Do you leave home at 9am and get back at 6pm? You can turn the heating up in the bathroom in the morning and down when you leave. You can make sure your living room is cozy when you come home and your bedroom is a comfortable 19°.

Comfort or Economy Mode? The choice is yours.
Additional Radiator Valves and the Netatmo Smart Thermostat make the perfect team. Why? Because they allow you to choose between two heating modes. Comfort Priority tells Radiator Valves to heat certain rooms to a temperature higher than the Thermostat. Eco Priority tells them to limit the temperature.

Is a window open? Avoid energy waste
Netatmo Radiator Valves have a useful smart feature that's really something. Open Window Detection automatically switches radiators off in a room where windows are open. They're switched back on when the windows are closed. The advantage? Zero effort but big energy savings.

Your heating system adapts to the weather, your home and each room
Netatmo Radiator Valves adapt to the weather and your home's insulation in real time with the Auto-Adapt feature. They adjust radiator heat to guarantee the right temperature at the right time. Want to set your living room to 20°C? Consider it done! If you have more than one in the same room, Smart Radiator Valves can be synchronized to make sure the room is heated evenly.

Adjust your radiator heat, wherever you are
Control your radiators using the Energy app on your smartphone, tablet or computer. Heading home sooner than you thought? Reprogram your heating to switch on before you get in. Thanks to Apple HomeKit, Alexa and Google Assistant compatibility, you can control your Radiator Valves with your voice. It's no sooner said than done! Alternatively, you can adjust them manually.

Simple to install and use
All Netatmo equipment is designed to be easy to install and use. It takes less than 20 minutes to install each Additional Smart Radiator Valve. No technical expertise required: our guides and videos will walk you through the process. If you already have radiator valves, you can simply replace them with Netatmo valves, even with the heating on.

Equipment adapted to your home
Netatmo Smart Radiator Valves are compatible with more than 90% of radiators. Still not sure? Check compatibility on check.netatmo.com. Adapters are supplied with each Smart Radiator Valve to fit the thermostatic valve body of your radiators.

Designed to blend into your decor
Smart Radiator Valves are designed to make your life easier - not harder! With a minimalist design by Philippe Starck and a choice of four adhesive strips in different colors, Smart Radiator Valves blend into your home decor.

Control all your radiators for even greater efficiency
Good news! Your smart heating system can control up to 20 Smart Radiator Valves. You just install them on the radiators of your choice then program the temperature of each room depending on use and time of day. You're guaranteed the right temperature, everywhere, at the right time.