Deltaco Smart Home SH-IPC02 - smart camera for indoor, 1080p, IR 10m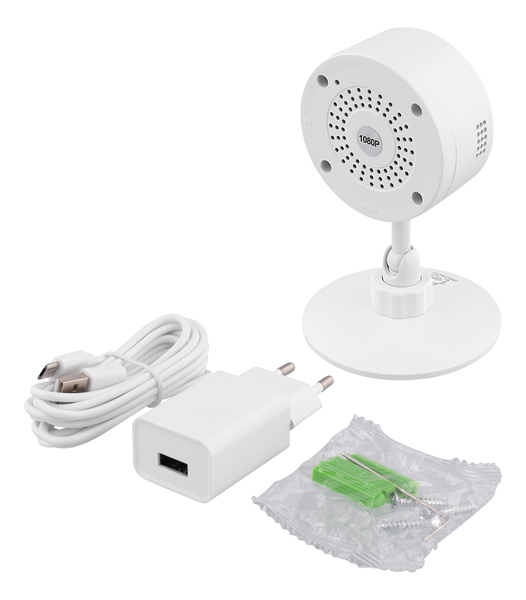 26

,00 €
20

,97 €
Show VAT 0%
Show VAT 24%
Online store: 40+ pcs available
Estimated delivery time: 3-5 days
Specifications
Description
Availability / Delivery
Price development
Audio
Built-in microphone
Audio input channels
2
Weight & dimensions
Weight
80 g
Height
106 mm
Width
66 mm
Depth
66 mm
Energy management
Power source type
USB
Networking
Wi-Fi standards
802.11b,802.11g,Wi-Fi 4 (802.11n)
Ethernet LAN
Bluetooth
Wi-Fi
Video
Maximum resolution
1920 x 1080 pixels
Supported graphics resolutions
1920 x 1080 (HD 1080)
Supported video modes
1080p
Total megapixels
2 MP
Storage
Compatible memory cards
MicroSD (TransFlash)
Card reader integrated
Maximum memory card size
64 GB
Built-in HDD
Security
Video motion detection
Image sensor
Sensor type
CMOS
Optical sensor size
25.4 / 4 mm (1 / 4")
Camera
Field of view (FOV) angle
85°
Packaging content
Cables included
USB
Number of cameras
1
Design
Form factor
Bulb
Product colour
White
Night vision
LED type
IR
Night vision
Night vision distance
10 m
Performance
Type
IP security camera
Connectivity technology
Wireless
Placement supported
Indoor
EAN
7333048041876
Source: Icecat.biz
DELTACO SMART HOME network camera for indoor use, WiFi 2.4GHz, 1080p, IR 10m, 1/4 "CMOS, microSD, white

SH-IPC02 is a wireless network camera that can be placed in your home or office to give you control over what happens when you are away.
The camera has a 1080p resolution that gives you clear images. It also has an IR range of up to 10m to see objects even in the dark. In order for SH-IPC02 to record material, there is a microSD card slot where everything is stored on a memory card. The camera also supports two-way audio which means it has both speakers and microphone which can be convenient if you are at a distance and need to communicate with someone who is near the camera.

With the DELTACO SMART HOME app you take care of all the handling for the camera. Installation is quick and easy, all you need is a functioning wireless network, ie. no special hubs or gateways. In the DELTACO SMART HOME app, in addition to managing settings, you can also enable motion detection, either to be on all the time or to schedule the camera to be active at certain times of the day. You also handle previous recordings made by the camera or you can take a screenshot or record real-time video stored on your phone. The DELTACO SMART HOME app is of course available for free download for both Android and iOS.