Netgear Orbi 8PT Desktop Router Voice Bundle /RBK50V-100EUS
Netgear Orbi 8PT Desktop Router Voice Bundle /RBK50V-100EUS
ID: RBK50V-100EUS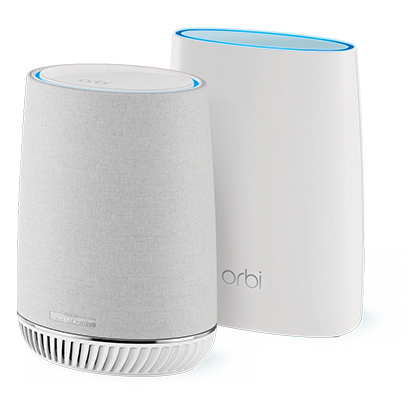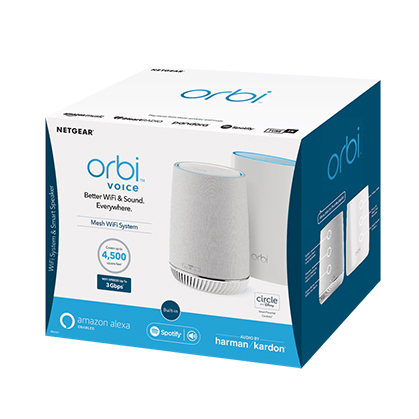 899

,00 €
725

,00 €
Show VAT 0%
Show VAT 24%
Online store:

3 pcs
Estimated delivery: 14.07 - 18.07
Specifications
Description
Store availability
Delivery
Price development
Better WiFi and Sound. Everywhere.
The first and only mesh WiFi system with award-winning technology that pairs the Orbi WiFi router with Orbi Voice, a smart speaker like no other.

They work together to power your whole home with blazing fast WiFi. And when you need to play music hands-free or control your smart home devices, Orbi Voice with Amazon Alexa built-in lets you do just that—and so much more.

Orbi Voice WiFi Satellite and Smart Speaker
The first and only smart speaker that combines incredible sound with award-winning WiFi technology.

Amazon Alexa Built-in
Use Alexa to voice control your smart home devices and play music on Orbi Voice.

Best-in-class sound
Truly captivating listening experience with audio by Harman Kardon™.

Your WiFi hero
Extend your Orbi WiFi to get a more reliable signal in any room.

Pretty. Powerful.
Orbi Voice combines an incredible sounding speaker with award-winning mesh WiFi technology. It has plenty of inner beauty, like a front-facing woofer & far-field voice technology. Orbi Voice is a powerhouse of sound and WiFi wrapped in innovation and good looks.

Smart parental controls
Filter content and limit the time your kids spend online on any device. Orbi has Circle® on NETGEAR smart parental controls.

Roam freely
Orbi creates one seamless network, so as you move from room to room, your signal won't drop—especially while streaming.

WiFi super highway
More devices. No slowdown. Only Orbi has Patented FastLane3™ Technology to make sure you get the fastest WiFi speeds available even as more devices connect.

Turn up the volume
Premium audio by Harman Kardon™ delivers unmatched sound quality to any room so you can really feel the beat.
Posti Parcel Point
Estimated delivery time: 13.07 - 17.07
Postal Parcel
Estimated delivery time: 14.07 - 18.07
Parcel to the Doorstep
Estimated delivery time: 14.07 - 17.07
Home Delivered Parcel
Estimated delivery time: 14.07 - 17.07