Logitech H390 - headset
Logitech H390 - headset
ID: 981-000406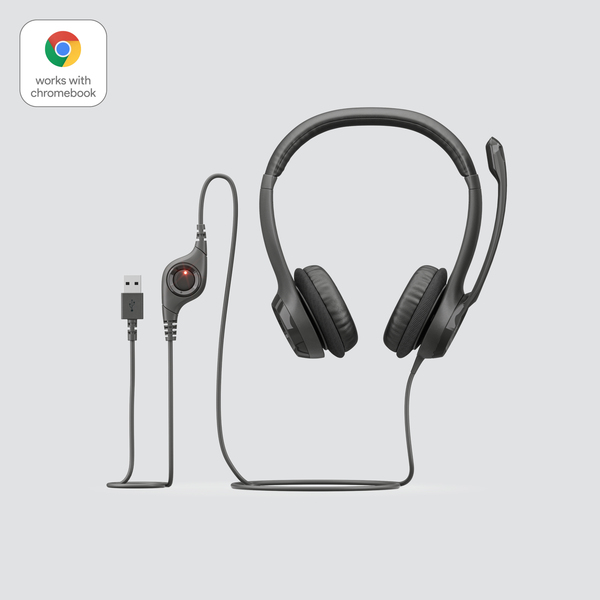 43

,00 €
34

,68 €
Show VAT 0%
Show VAT 24%
Online store:

20 pcs
Estimated delivery: 17.08 - 19.08
Key Specifications
Choose one or multiple features to search for items that have the same specifications.
Specifications
Description
Store availability
Delivery
Price development
System requirements
Windows operating systems supported
Windows 2000,Windows 2000 Professional, Windows 7 Home Premium, Windows 7 Home Premium x64,Windows 7 Professional, Windows 7 Professional x64,Windows 7 Starter, Windows 7 Starter x64,Windows 7 Ultimate, Windows 7 Ultimate x64,Windows Vista Business, Windows Vista Business x64,Windows Vista Home Basic, Windows Vista Home Basic x64,Windows Vista Home Premium, Windows Vista Home Premium x64,Windows Vista Ultimate, Windows Vista Ultimate x64,Windows XP Home, Windows XP Home x64,Windows XP Professional, Windows XP Professional x64
Mac operating systems supported
Mac OS X 10.3 Panther, Mac OS X 10.4 Tiger, Mac OS X 10.5 Leopard, Mac OS X 10.6 Snow Leopard, Mac OS X 10.7 Lion, Mac OS X 10.8 Mountain Lion
Ports & interfaces
Connectivity technology
Wired
Bluetooth
USB connectivity
3.5 mm connector
USB connector
USB Type-A
2x 3.5 mm connectors
Weight & dimensions
Weight
197 g
Height
191 mm
Width
151 mm
Depth
68 mm
Packaging data
Package weight
305 g
Package depth
200 mm
Package height
221 mm
Package width
72 mm
Package type
Blister
Microphone
Microphone frequency
100 - 10000 Hz
Microphone sensitivity
-17 dB
Noise-canceling
Microphone type
Boom
Headphones
Headphone frequency
20 - 20000 Hz
Headphone sensitivity
94 dB
Impedance
32 Ω
Ear coupling
Supraaural
Packaging content
Quantity
1
Quick start guide
Other features
Packaging content
USB computer headset<br /> User documentation
2.5 mm connector
Performance
Plug and Play
Cable length
1.9 m
Cable colour
Black
Product colour
Black
Headset type
Binaural
Wearing style
Head-band
Recommended usage
Office/Call center
Product type
Headset
Logistics data
Products per pallet
336 pc(s)
Master carton height
467 mm
Master carton width
437 mm
Master carton weight
6.7 kg
Master carton length
315 mm
Shipping carton width
22.3 cm
Shipping carton length
25.5 cm
Shipping carton height
28.2 cm
Shipping carton weight
1.55 kg
Shipping carton GTIN (EAN/UPC)
50992060300129
Master carton GTIN (EAN/UPC)
50992060300112
Quantity per intermodal container (20ft)
7232 pc(s)
Quantity per intermodal container (40ft)
14848 pc(s)
EAN
5099206030015
Warranty
2 years
Source: Icecat.biz
Experience clear internet calls a with simple plug-and-play USB connection and a noise-canceling mic. Rigid left-sided mic boom is moveable and can be tucked out of the way when you're not using it. In-line controls let you control volume or mute without interrupting calls. Laser-tuned drivers deliver enhanced digital audio from your favorite music and games.
Posti Parcel Point
Estimated delivery time: 16.08 - 18.08
Postal Parcel
Estimated delivery time: 17.08 - 19.08
Parcel to the Doorstep
Estimated delivery time: 17.08 - 18.08
Home Delivered Parcel
Estimated delivery time: 17.08 - 18.08