Netgear Orbi Voice Smart & WiFi -Mech-tukiasema
Netgear Orbi Voice Smart & WiFi -Mech-tukiasema
ID: RBS40V-100EUS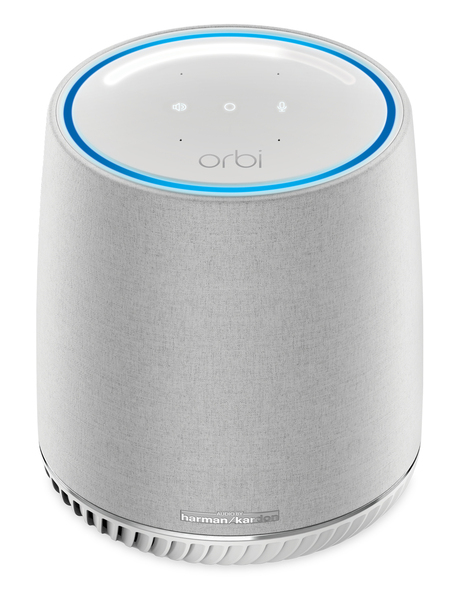 369

,00 €
297

,58 €
Show VAT 0%
Show VAT 24%
Online store:

1 pcs
Estimated delivery: 15.07 - 18.07
Specifications
Description
Store availability
Delivery
Price development
Audio
Peak Music Power Output (PMPO)
35 W
Frequency range
63 - 20000 Hz
Ports & interfaces
Connectivity technology
Wired & Wireless
Bluetooth
DC-in jack
Wi-Fi
Frequency range
2.4 - 5 GHz
Weight & dimensions
Weight
1.81 kg
Height
218 mm
Width
165 mm
Depth
125 mm
Energy management
AC adapter input voltage
230 V
AC adapter frequency
50 Hz
Power source type
DC
Operational conditions
Operating relative humidity (H-H)
0 - 90%
Operating temperature (cooling) (T-T)
0 - 35 °C
Loudspeakers
Audio output channels
2.0 channels
Woofer diameter
8.89 cm
Tweeter
Tweeter diameter
2.54 cm
Woofer
Number of drivers
2
Number of speakers
1
Packaging content
Quick start guide
Quantity per pack
1 pc(s)
Other features
AC adapter included
Design
Product colour
Grey, White
On/off switch
Product type
Stereo portable speaker
Performance
Recommended usage
Universal
EAN
606449135060
Warranty
1 year
Source: Icecat.biz
Smart Speaker. Smarter WiFi.
The first and only smart speaker that combines incredible sound with award-winning WiFi technology.

Pretty. Powerful.
Orbi Voice combines an incredible sounding speaker with award-winning mesh WiFi technology. It has plenty of inner beauty, like a front-facing woofer & far-field voice technology. Orbi Voice is a powerhouse of sound and WiFi wrapped in innovation and good looks.

Give your home a WiFi hug
Expand your Orbi WiFi's signal to reach even more places. Say goodbye to WiFi dead zones and buffering.

WiFi super highway
More devices. No slowdown. Only Orbi has Patented FastLane3™ Technology to make sure you get the fastest WiFi speeds available even as more devices connect.

Full stream ahead
High-performance WiFi lets you and your family enjoy a smoother, ultra-high definition 4K streaming experience even as more devices connect.

Roam freely
Orbi creates one seamless network so as you move from room to room, your signal won't drop—especially while streaming.
Posti Parcel Point
Estimated delivery time: 14.07 - 17.07
Postal Parcel
Estimated delivery time: 15.07 - 18.07
Parcel to the Doorstep
Estimated delivery time: 15.07 - 17.07
Home Delivered Parcel
Estimated delivery time: 15.07 - 17.07