Super Bomberman R
Super Bomberman R
ID: 835211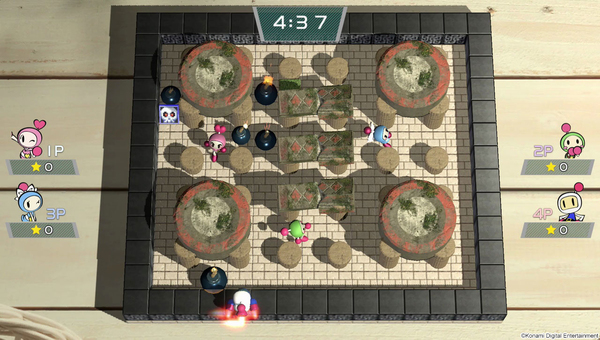 40

,00 €
32

,26 €
Show VAT 0%
Show VAT 24%
Online store:

40+ pcs
Estimated delivery: 29.09 - 01.10
Specifications
Description
Store availability
Delivery
Price development
System requirements
Virtual Reality (VR) headset required
Features
Platform
PC
Language version
ESRB rating
E10+ (Everyone 10+)
Release date (DD/MM/YYYY)
15/03/2018
Game edition
Basic
PEGI rating
7
Publisher
Konami
Multiplayer mode
Distribution type
Download
EAN
Source: Icecat.biz
More than 50 levels awaits you in the Story Mode, playable alone or with a friend.

The 8 Bomberman Rangers, sworn protectors of the universe, take on the Evil Emperor Buggler and 5 dastardly Bombers. Our heroes will battle their way through 5 different but dangerous worlds, and face 5 villains in epic boss fights as they do.

In Battle Mode, nearby or on the other side of the planet, up to 8 people can play together (you can connect up to 4 Nintendo Switch™).
Posti Parcel Point
Estimated delivery time: 28.09 - 30.09
Postal Parcel
Estimated delivery time: 29.09 - 01.10
Parcel to the Doorstep
Estimated delivery time: 29.09 - 30.09
Home Delivered Parcel
Estimated delivery time: 29.09 - 30.09