Koss PortaPro Wireless On-Ear - Headphone, Black
Koss PortaPro Wireless On-Ear - Headphone, Black
ID: 193582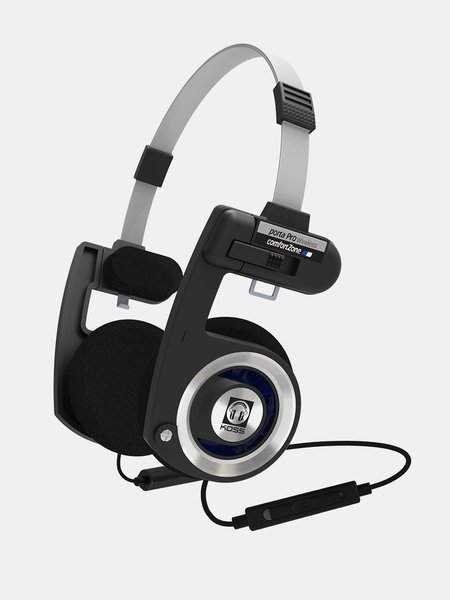 69

,00 €
55

,65 €
Show VAT 0%
Show VAT 24%
Online store:
Estimated delivery: 23.09 - 28.09
Key Specifications
Choose one or multiple features to search for items that have the same specifications.
Specifications
Description
Store availability
Delivery
Price development
Ports & interfaces
Built-in microphone
Connectivity technology
Wireless
Networking
Bluetooth version
4.1
Bluetooth
Headphones
Headphone frequency
15 - 25000 Hz
Battery
Rechargeable
Design
Product colour
Black, Metallic
EAN
21299193587
PortaPro Wireless On-Ear
• Langattomat
• Sisäänrakennettu mikrofoni ja kauko-ohjain
• Laadukas Koss-ääni
• Kokoontaitettava muotoilu
• 12 tunnin akunkesto 
• Sisältää suojapussin ja USB-latausjohdon.
Legendaarinen Porta Pro-kuuloke nyt langattomana versiona!

Langattomat
Kehittynyt langaton Bluetooth 4.1 aptX ™ tekniikka 

Sisäänrakennettu mikrofoni ja kauko-ohjain
Voit helposti hallita musiikkia ja vastaanottaa puheluita sisäänrakennetulla mikrofonilla ja kauko-ohjaimella.

Laadukas Koss-ääni
Dynaamiset elementit tuottavat täyden spektrin äänen.

Kokoontaitettava muotoilu
Kokoontaitettavan muotoilun ansiosta kuulokkeet menevät pieneen kokoon ja helppo kuljettaa mukana.
No price development information for this product.
Postal Parcel
Estimated delivery time: 23.09 - 28.09
Posti Parcel Point
Estimated delivery time: 22.09 - 27.09
Parcel to the Doorstep
Estimated delivery time: 23.09 - 27.09
Home Delivered Parcel
Estimated delivery time: 23.09 - 27.09