Netatmo Healthy Home Coach - Smart klimatövervakning inomhus
Netatmo Healthy Home Coach - Smart klimatövervakning inomhus
ID: NHC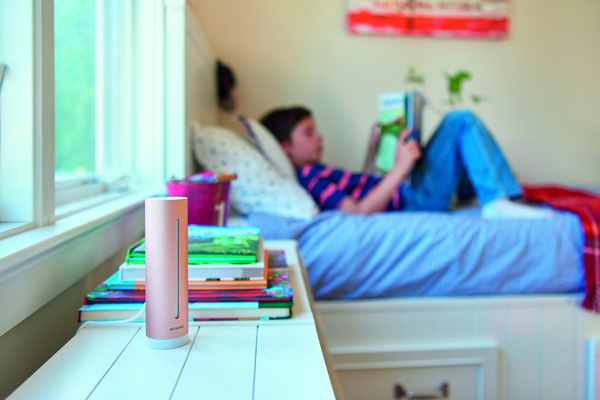 Product is end of life or currently not available. Please contact our customer service for more information regarding this product.
Currently not available
Estimated delivery: Unknown
Specifications
Description
Store availability
Delivery
Price development
Display
Built-in display
Ports & interfaces
Connectivity technology
Wireless
Weight & dimensions
Weight
173 g
Package weight
621 g
Height
155 mm
Width
45 mm
Depth
45 mm
Package depth
80 mm
Package height
200 mm
Package width
150 mm
Energy management
Input voltage
100 - 240 V
Maximum power
2.75 W
Power source type
AC
Operational conditions
Operating relative humidity (H-H)
0 - 100%
Storage temperature (T-T)
-20 - 80 °C
Operating temperature (T-T)
0 - 50 °C
Networking
Smart weather station
Packaging content
Manual
Adapter included
Features
Wi-Fi standards
802.11b,802.11g, Wi-Fi 4 (802.11n)
Security algorithms
AES, TKIP, WEP, WPA, WPA2
Wireless technology
Wi-Fi
Connectivity technology
Wireless
Product colour
Pink, White
Compatible products
Apple HomeKit
Easy to install
Firmware upgradeable
Housing material
Aluminium, Plastic
Temperature measurement range
0 - 50 °C
Temperature measurement range (inside) (T-T)
32 - 112 °F
Humidity measuring range (outside) (H-H)
0 - 100%
Built-in display
Measuring functions
Indoor hygrometer, Indoor thermometer
Frequency
2400 MHz
Weather station extremum data
Hygrometer, Thermometer
Measuring environmental conditions
Air quality, Humidity, Noise level, Temperature
Humidity accuracy
3%
Logistics data
Country of origin
China
EAN
3700730501767
Source: Icecat.biz
DISCOVER HOW TO CREATE A HEALTHIER HOME

You want to provide the healthiest home possible for your family. Netatmo's Smart Indoor Air Quality Monitor shows you how.

Whether it's the best noise level for sound sleeping or the right humidity levels for a child with asthma, it measures what matters, highlights potential problems, and tells you how to fix them.

Netatmo Smart Indoor Air Quality Monitor measures the vitals of your home and alerts you when something needs to be fixed. Air quality level, humidity, temperature, noise, you know precisely how healthy your rooms are.

Thanks to its easy App you know at a glance if your home is healthy or not. You get notifications when something needs to be fixed and advice on what you can do to get a healthier home.

Why does it matter?

AIR QUALITY
We spend 80% of our time indoors, and much of that time is at home. The air you breathe while you're there impacts the health of your whole family.
A poorly ventilated room leads to high indoor air pollution. It also tremendously reduces your ability to concentrate, which is key when your teens are doing their homework or preparing exams.
Smart Indoor Air Quality Monitor sends you notifications to make sure you never forget to ventilate a room.

HUMIDITY
Dry air can cause itchy skin. Humid air can lead to the growth of mold. And humidity levels can help managing asthma and allergies. Find the balance that works best for each room of your home.

TEMPERATURE
Your baby and toddler are not able yet to balance their body temperature properly. A room that feels just right to you might be too hot for them. You might find them waking up from naptime all sweaty while you were sure the room temperature was comfortable. Healthy Home Coach advises you on the precise temperature your child needs to feel good.

NOISE
Often a disturbed sleep might be caused by noises you don't realize you heard. Check the data history of your family sleep time to understand how you can improve their sleep.

REMOTE ACCESS: Just log in using our app and access your home's indoor climate from anywhere.

EASY TO USE: With just one tap on the top, Smart Indoor Air Quality Monitor lights up to give you immediate insight into the health of your home.

EASILY EXPANDABLE: Monitor better your home by placing a Smart Indoor Air Quality Monitor in each room that matters in your family life.
No price development information for this product.