Lego Dots -Viestitaulu 41951
ID: 41951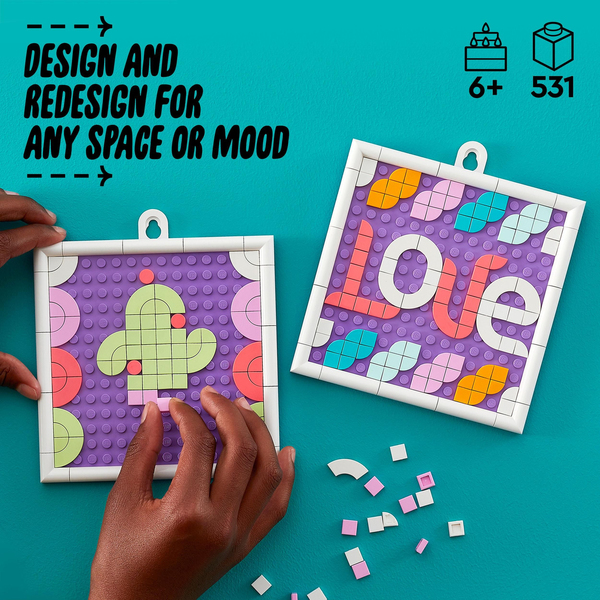 22
00€
17
74€
Show VAT 0%
Show VAT 24%
Estimated delivery: 18.10 - 28.10
On order with ETA after 16.10.2023
Specifications
Description
Store availability
Delivery
Price development
Want an opportunity to make a DIY statement? Check out this LEGO DOTS Message Board (41951) crafts set for kids! This personalisable canvas bedroom door sign or notice board set was designed to encourage kids' artistic creativity and offers DIY fans the chance to create and display customisable messages. Kids can personalise them to suit their moods, passions or room decor.

This set comes with 2 16x16 plates, frame and hanger elements, plus a bunch of tiles in fun colours and shapes, including curved 2x2 elements to help kids make different font styles. The features let kids decorate their boards however they like, with messages, designs or both, to really build their creative skills.

DOTS sets introduce kids to the joy of LEGO play and creativity as they make a personalised bedroom door sign, notice board or any kids' room décor or DOTS decorated accessories while expressing themselves through creative activities. LEGO DOTS crafts sets for kids make great birthday or just-because gifts full of possibilities that arts & crafts fans will love.
Posti Parcel Point
Estimated delivery time: 17.10 - 27.10
Postal Parcel
Estimated delivery time: 18.10 - 28.10
Parcel to the Doorstep
Estimated delivery time: 18.10 - 27.10
Home Delivered Parcel
Estimated delivery time: 18.10 - 27.10