Netatmo Smart Thermostat V2 - thermostat for the smart home (Apple Homekit approved)
Netatmo Smart Thermostat V2 - thermostat for the smart home (Apple Homekit approved)
ID: NTH01-EN-EU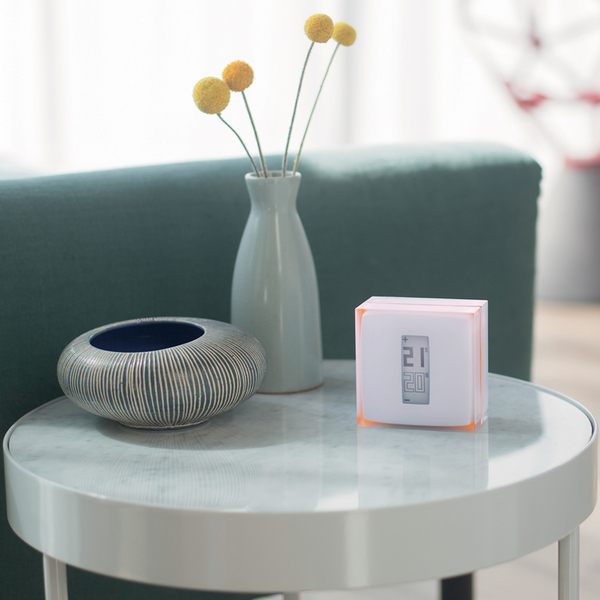 169

,00 €
136

,29 €
Show VAT 0%
Show VAT 24%
Currently not available
Estimated delivery: Unknown
Specifications
Description
Store availability
Delivery
Price development
Display
Display
Digital
System requirements
Mobile operating systems supported
Android 4.2, Android 4.2.1, Android 4.2.2, Android 4.3, Android 4.4, Android 5.0, Android 5.1, Android 6.0, Android 7.0, Android 7.1, Android 7.1.2, Android 8.0, Android 9.0, Windows Phone 8, Windows Phone 8.1, Windows Phone 9, iOS 10.0, iOS 11.0, iOS 11.4, iOS 12, iOS 9.0, iOS 9.1, iOS 9.2, iOS 9.3, iPadOS
Weight & dimensions
Weight
185 g
Height
83 mm
Width
83 mm
Depth
22 mm
Energy management
Battery type
AAA
Number of batteries supported
3
Power source
Battery
Battery life
2 year(s)
Maximum switching capacity
120 W
Maximum switching voltage
250 V
Maximum switching current
4 A
Operational conditions
Accuracy
0.5 °C
Temperature range (T-T)
0 - 50 °C
Packaging content
AC adapter included
Remote control included
Quantity
1
Cables included
USB
Quick start guide
Batteries included
Wall bracket
Stand included
Screws included
Installation instruction
Receiver
Sensors
Temperature sensor
Features
Interface
RF
Wi-Fi standards
802.11b,802.11g,Wi-Fi 4 (802.11n)
Security algorithms
WEP,WPA,WPA2-AES,WPA2-TKIP
Product colour
Translucent, White
Wi-Fi
Units of measurement
°C
Memory function
Remotely operated
Delayed start timer
Multi-Zone capability
Maximum indoor range
100 m
Smartphone remote support
Scheduler function
Smart thermostat
Wi-Fi frequency
2.4 GHz
Temperature setpoint range
5 - 30 °C
Temperature increment
0.5 °C
EAN
3700730500241
Warranty
2 years
Source: Icecat.biz
Heating schedule: easy energy savings
Heat your home to just the right temperature and only when you need it. The Netatmo Smart Thermostat needs the answers to just five questions to create a heating schedule that suits your lifestyle. It's that easy! It turns the heating down while you're at work and makes sure it's warm when you get home. The schedule includes Absent and Frost Protection options to adjust the heating if you're away for longer periods.

A Smart Thermostat that adapts and keeps you updated in real time
Even when the weather changes, your Thermostat stays smart. The Auto-Adapt feature adjusts your heating based on the outdoor temperature and your home's insulation. The aim is to guarantee the right temperature at the right time. Set it to 20°C and that's exactly the temperature it will be when you get home! Plus, the Auto-Care feature lets you know when the batteries are running low or it detects a problem.

Control your smart heating from a distance
Stay in control of your Netatmo Smart Thermostat, wherever you are, using the Energy app on your smartphone, tablet or computer. Heading home? For a warm welcome, you can turn on the heating as you leave the office. You can also control the Thermostat manually when you're home.

Effortless voice-controlled heating
Is it bath time for the kids? "Siri, turn up the bathroom heating to 22°C!" Are your guests too hot? "OK Google, turn the heating down in the living room to 18°C." Feeling chilly? "Alexa, make the bedroom 2 degrees warmer!" Your Netatmo Smart Thermostat is compatible with Apple HomeKit, Alexa and Google Assistant, so you can control it with your voice. It's no sooner said than done!

Consumption information and advice
The Netatmo Smart Thermostat gives you everything you need to understand your heating habits and keep an eye on your energy usage. You can view your data history - indoor temperatures, heating schedule, boiler activity phases - on your smartphone or computer. And you'll receive a personalized Energy Savings Report every month. The Thermostat lets you adapt your heating schedule to your lifestyle!

Quick and easy to install
All Netatmo equipment is designed to be easy to install and use. The Smart Thermostat is no exception! It takes less than an hour to install. You don't need to be a technical expert: our step-by-step guides and videos walk you through the process.

The thermostat that adapts to your home
The Netatmo Smart Thermostat is compatible with most boilers, whichever energy you use: electricity, gas, fuel oil, wood or heat pump. Not sure whether yours is a match? Visit check.netatmo.com. You can install your mobile Thermostat anywhere in your home.

Designed by Philippe Starck to go with your decor
Your Smart Thermostat is designed to make your life easier - not harder! With a minimalist design by Philippe Starck and a choice of four adhesive strips in different colors, your Thermostat blends into your home decor.

Ideal temperature in each room
Don't want to overheat an empty bedroom but prefer to take your morning shower in a warm bathroom? We feel the same way! Only heat where you need it, when you need it, at the temperature that's right for you. How? By using your Thermostat with Additional Smart Radiator Valves. Fit them on up to 20 radiators to set the temperature room by room.
Posti Parcel Point
Estimated delivery time: Unknown
Postal Parcel
Estimated delivery time: Unknown
Parcel to the Doorstep
Estimated delivery time: Unknown
Home Delivered Parcel
Estimated delivery time: Unknown