CANON TS-1200TCG DBL
CANON TS-1200TCG DBL
ID: 2499B004AB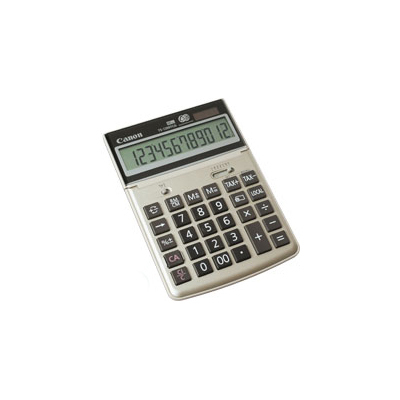 16

,00 €
12

,90 €
Show VAT 0%
Show VAT 24%
Currently not available
Estimated delivery: Unknown
Specifications
Description
Store availability
Delivery
Price development
Display
Digits
12 digits
Display size (HxV)
115 x 26 mm
Display character size
6.77 x 18.1 mm
Weight & dimensions
Dimensions (WxDxH)
188 x 133 x 29 mm
Weight
241 g
Design
Form factor
Desktop
EAN
4960999789385
Warranty
2 years
Source: Icecat.biz
This big 12-digit desktop calculator has a large, tilting LCD display, making figures extra easy to read in all light conditions. Convenient tax and currency conversion functions add to versatility.

Features
- 12-digit Green calculator
- Large tilting LCD display
- Key roll over for fast entry
- Tax and currency conversion functions
- Upper and lower case made from recycled material
- Dual power source: solar & replaceable battery
- Automatic power-off

Big desktop "Green" calculator with large tilting LCD display

Green advantage
Give your business a green advantage with this big, efficient and eco-friendly 12-digit calculator. It's the perfect solution for public and private organisations with a Green Procurement Policy – as well as for all responsible enterprises, educational institutions and environmentally conscious individuals.

Large easy-to-read LCD display
Figures are easy to read even after extended use, thanks to the extra large, adjustable tilting LCD display. The ergonomic design with a big spacious keyboard and large durable keys ensures effortless operation. What's more, key roll over functionality allows speedy entry of figures without keys blocking.

Simplify complex calculations
Simplify complex calculations and save time. Work out tax rate differentials at a touch, with the two handy tax calculation keys. Currency conversion is equally simple. Convert your local currency into the currency of your choice - or vice versa - quickly and easily.

Flexible functions
You can check the calculator status instantly using the 'Calculation Command sign' key. Other functions include select switches for easy decimal selection and rounding - as well as Sign Change, Shift and Percentage keys.

Protecting the planet
The upper and lower case of the TS-1200TCG calculator is made from 100% recycled Canon Copier material. To reduce waste even further, recycled paper is used for both packaging and instruction manual. The end result is an environmentally friendly calculator that helps preserve precious global resources.

Energy efficient
Whatever the light conditions, this dual solar and battery powered calculator never lets you down. The 'auto power-off' function switches the calculator off when not in use to save energy. Also your calculator has a replaceable battery for a long life, unlike some calculators that have to be disposed of after single battery use.

Quality you can count on
Your recycled calculator meets rigorous quality requirements. Manufactured to the highest standards, it's backed by a 3-year warranty as our guarantee of excellence.
Posti Parcel Point
Estimated delivery time: Unknown
Postal Parcel
Estimated delivery time: Unknown
Parcel to the Doorstep
Estimated delivery time: Unknown
Home Delivered Parcel
Estimated delivery time: Unknown