Logitech C310 HD - web camera, Black
Logitech C310 HD - web camera, Black
ID: 960-001065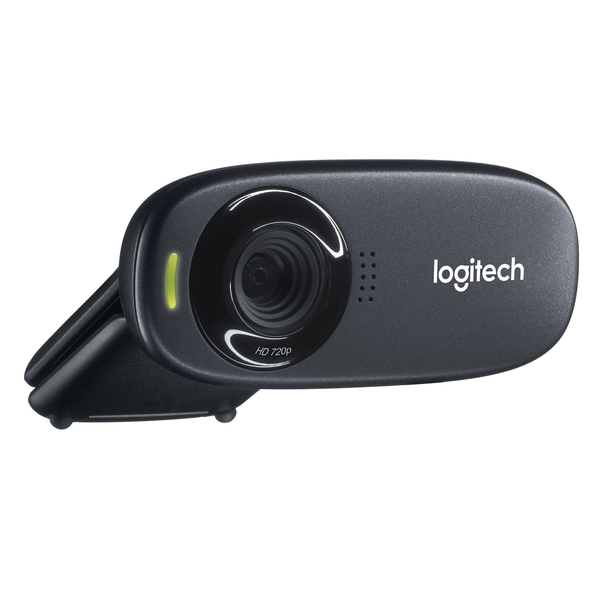 36

,00 €
29

,03 €
Show VAT 0%
Show VAT 24%
Online store:

40+ pcs
Estimated delivery: 31.01 - 01.02
Key Specifications
Choose one or multiple features to search for items that have the same specifications.
Specifications
Description
Store availability
Delivery
Price development
Technical details
Maximum resolution
1280 x 720 pixels
Housing colour
Black
Weight & dimensions
Weight
71.2 g
Height
71.2 mm
Width
31.3 mm
Depth
25.9 mm
Packaging data
Package weight
145 g
Quantity
1
Package depth
101 mm
Package height
53 mm
Package width
81 mm
Operating system/software
Windows operating systems supported
Windows 10, Windows 10 Education, Windows 10 Education x64, Windows 10 Enterprise, Windows 10 Enterprise x64, Windows 10 Home, Windows 10 Home x64, Windows 10 Pro, Windows 10 Pro x64, Windows 7 Enterprise, Windows 7 Enterprise x64, Windows 7 Home Basic, Windows 7 Home Basic x64, Windows 7 Home Premium, Windows 7 Home Premium x64, Windows 7 Professional, Windows 7 Professional x64, Windows 7 Starter, Windows 7 Starter x64, Windows 7 Ultimate, Windows 7 Ultimate x64, Windows 8, Windows 8 Enterprise, Windows 8 Enterprise x64, Windows 8 Pro, Windows 8 Pro x64, Windows 8 x64, Windows Vista Business, Windows Vista Business x64, Windows Vista Enterprise, Windows Vista Home Basic, Windows Vista Home Basic x64, Windows Vista Home Premium, Windows Vista Home Premium x64, Windows Vista Ultimate, Windows Vista Ultimate x64
Mac operating systems supported
Mac OS X 10.10 Yosemite, Mac OS X 10.11 El Capitan, Mac OS X 10.12 Sierra, Mac OS X 10.13 High Sierra
Packaging content
Manual
Laptop clamp
LCD clamp
Packaging content
Webcam with 5 ft cable<br /> User documentation<br /> 2-year manufacturer's guarantee and full product support
Design
Interface
USB
Built-in microphone
Cable length
1.5 m
Built-in flash
Product colour
Black
Mounting type
Clip
Lens material
Plastic
Performance
Megapixel
5 MP
Noise reduction
Full HD
Supported video modes
720p
Photo feature
Maximum interpolated image resolution
5 MP
Face tracking
Maximum video resolution
1280 x 720 pixels
Maximum frame rate
30 fps
Diagonal field of view
60°
Logistics data
Master carton height
215 mm
Master carton width
100 mm
Master carton weight
1.8 kg
Master carton length
224 mm
EAN
5099206064225
Warranty
2 years
Source: Icecat.biz
Step up to a better video experience with the Logitech C310, an affordable webcam for your laptop or monitor with features that outperform built-in laptop cameras. The C310 Webcam supports crisp HD 720p/30 fps video calls with a diagonal 60° field of view to keep the focus on you. The innovative RightLight 2 technology adjusts to any lighting conditions, producing brighter images to help you look good on your video calls. And the noise-reducing mic makes sure your voice comes across clearly, even in busy environments.
Posti Parcel Point
Estimated delivery time: 30.01 - 31.01
Postal Parcel
Estimated delivery time: 31.01 - 01.02
Parcel to the Doorstep
Estimated delivery time: 31.01
Home Delivered Parcel
Estimated delivery time: 31.01