Battery LR44/A76 Alkaline 2-pa
Battery LR44/A76 Alkaline 2-pa
ID: 7638900083071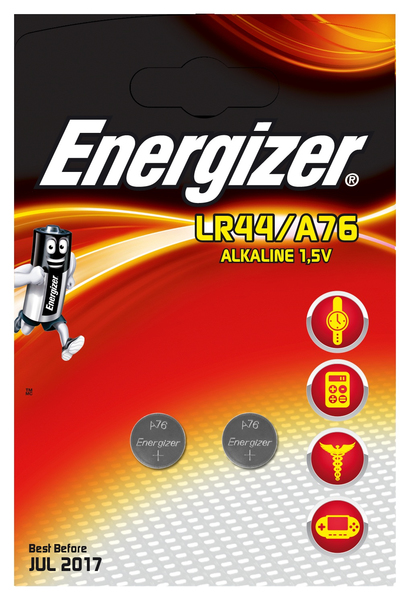 3

,00 €
2

,42 €
Show VAT 0%
Show VAT 24%
Online store:
Estimated delivery: 13.10 - 18.10
Specifications
Description
Store availability
Delivery
Price development
Weight & dimensions
Weight
2.4 g
Height
5.4 mm
Diameter
1.16 cm
Packaging data
Package weight
9 g
Package type
Blister
Battery
Battery technology
Alkaline
Battery type
Single-use battery
Battery capacity
150 mAh
Product colour
Silver
Battery voltage
1.50 V
Number of batteries included
2 pc(s)
Other features
Battery form factor
Button/coin
EAN
7638900083071
Source: Icecat.biz
LR44 Alkaline Button Cell
LR44 is the most common of button cell batteries. They are manufactured in large quantities, and are available from every battery company with a range of button batteries.

All LR44 cells have a standard voltage of 1.5V, and size of 11.6mm in diameter by 5.4mm in height. As an alkaline button cell, they are inexpensive to produce. This allows for really cheap prices to end users. The multitude of battery suppliers has resulted in many different names for the A76 battery, including LR44, AG13, G13, L1154, V13GA, plus many more.

LR44 button cells are used in hand-held electronic toys, calculators, LED lights in wheel nuts on cars, and just about every other place that a small amount of electricity is required at a low cost. High power devices, such as laser pointers or toys are better off with an A76/LR44.
No price development information for this product.
Posti Parcel Point
Estimated delivery time: 12.10 - 17.10
Postal Parcel
Estimated delivery time: 13.10 - 18.10
Parcel to the Doorstep
Estimated delivery time: 13.10 - 17.10
Home Delivered Parcel
Estimated delivery time: 13.10 - 17.10