Logitech UC P710e Mobile Speakerphone
Logitech UC P710e Mobile Speakerphone
ID: 980-000742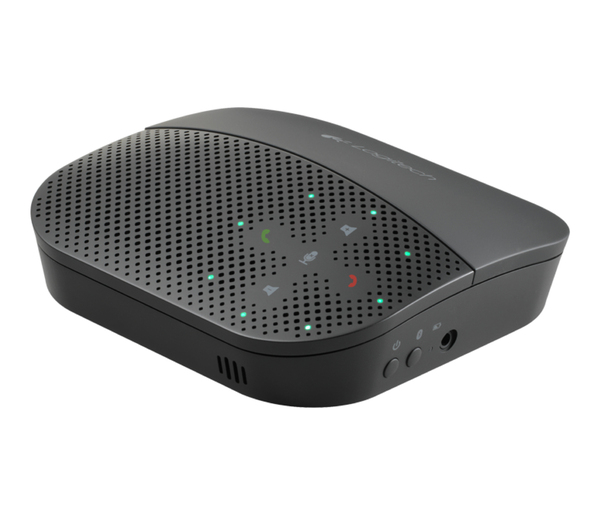 139

,00 €
112

,10 €
Show VAT 0%
Show VAT 24%
Online store:
Estimated delivery: 12.04 - 22.04
Key Specifications
Choose one or multiple features to search for items that have the same specifications.
Specifications
Description
Store availability
Delivery
Price development
Ports & interfaces
Interface
USB/Bluetooth
Connectivity technology
Wired & Wireless
Bluetooth
AUX in
Headphone connectivity
3.5 mm
Weight & dimensions
Weight
275 g
Height
40 mm
Width
120 mm
Depth
120 mm
Energy management
Battery technology
Lithium Polymer (LiPo)
Battery capacity
1100 mAh
Number of batteries supported
1
Power source type
Battery
Loudspeakers
Sensitivity
85 dB
Frequency range
140 - 16000 Hz
Packaging data
Package weight
574 g
Package depth
189 mm
Package height
57 mm
Package width
149 mm
Microphone
Microphone frequency
50 - 8000 Hz
Microphone direction type
Omnidirectional
Packaging content
AC adapter included
Quantity
1
Quick start guide
Storage pouch
Packaging content
Speakerphone
Travel case
AC power adapter
User documentation
Phone spacer
2-year manufacturer's guarantee
Battery
Battery capacity (Watt hours)
4.07 Wh
Features
Product colour
Black
Auto
Device type
Mobile phone
Windows operating systems supported
Windows 10, Windows 11, Windows 7, Windows 8, Windows 8.1, Windows Vista
Mac operating systems supported
Mac OS X 10.10 Yosemite, Mac OS X 10.11 El Capitan, Mac OS X 10.12 Sierra, Mac OS X 10.13 High Sierra, Mac OS X 10.14 Mojave, Mac OS X 10.15 Catalina, Mac OS X 10.15.3 Catalina, Mac OS X 10.6 Snow Leopard, Mac OS X 10.7 Lion, Mac OS X 10.8 Mountain Lion, Mac OS X 10.9 Mavericks, Mac OS X 11.0 Big Sur, Mac OS X 12.0 Monterey
Linux operating systems supported
Portable
Logistics data
Master carton height
301 mm
Master carton width
199 mm
Master carton weight
6.2 kg
Master carton length
311 mm
EAN
5099206048836
Warranty
2 years
Source: Icecat.biz
The Logitech Mobile Speakerphone P710e combines enterprise-quality audio, portability, and second-screen flexibility with the human-centric design and user-friendly features Logitech is known for. With up to 15 hours of talk time, USB and Bluetooth® connectivity, and NFC (Near Field Communication) pairing with mobile devices, Logitech's mobile speakerphone enables users to instantly set up a virtual conference room anywhere their travels take them.

The P710e features a sliding top section that positions a mobile phone or tablet at the optimal angle for hands-free video calls. The cleverly designed mobile device stand also creates "second-screen" versatility, enabling users to view calendar alerts, see incoming messages, and perform productivity tasks without having to pick up their mobile device.

Sophisticated audio enhancements produce an "I can't tell you're on a speakerphone" experience, making the Logitech Mobile Speakerphone P710e an enterprise-grade solution that real people love to use—in the office, at home, or on the go.
Posti Parcel Point
Estimated delivery time: 11.04 - 21.04
Postal Parcel
Estimated delivery time: 12.04 - 22.04
Parcel to the Doorstep
Estimated delivery time: 12.04 - 21.04
Home Delivered Parcel
Estimated delivery time: 12.04 - 21.04