GARMIN CITY NAVIGATOR KANADA MIKROSD
GARMIN CITY NAVIGATOR KANADA MIKROSD
ID: 010-10966-00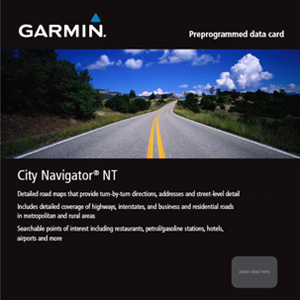 48

,00 €
38

,71 €
Show VAT 0%
Show VAT 24%
Currently not available
Estimated delivery: Unknown
Specifications
Description
Store availability
Delivery
Price development
Technical details
Compatibility
aera 500
Astro
Colorado 300/400c/400i/400t
Dakota 20
Edge 605/705
eTrex Legend HCx/Cx/Cx
eTrex Vista HCx/Cx
GPSMAP 60CSx/60Cx/620/640/76CSx/76Cx
GVN 52/53
iQue 3000/M4
nüvi 1200/1250/1260T/1300/1350/1350T/1370T/1390T/1450/1490T/1690/200/200W/205/205W/250/250W/255/255W/260/260W/265T/265WT/270/275T/285WT/350/360/370/465T/500/5000/600/610/650/660/670/680/750/755T/760/765T/770/775T/780/785T/850/855/880/885T
nüvifone G60
Oregon 200/300/400c/400i/400t/450/450t/550/550t
Rino 520HCx/530HCx
StreetPilot 7200/7500/c310/c320/c330/c340/c510/c530/c550/c580/i2/i3/i5
zūmo 220/450/550/660/665
EAN
753759071042
Warranty
1 year
Source: Icecat.biz
Travel Canada
City Navigator Canada NT helps you travel Canada with road coverage and millions of points of interest throughout the country. City Navigator brings you the most detailed street maps available so you can navigate with exact, turn-by-turn directions to any address or intersection. You can also route to restaurants, gas stations, hotels, attractions and more. Powered by NAVTEQ, a world leader in premium-quality digital map data.

- Displays points of interest including hotels, restaurants, parking, entertainment, fuel, shopping and more.
- Includes highways, interstates, business and residential roads in metropolitan and rural areas.
- Includes detailed information such as turn restrictions, roundabout guidance, speed categories and other navigation features.
- Gives turn-by-turn directions on your compatible device.
- Includes postal code support.
- Contains traffic data for compatible devices that use traffic receivers.
- Enhances pronunciation data for compatible devices that speak street names (example: "Turn right on Main Street.).
Posti Parcel Point
Estimated delivery time: Unknown
Postal Parcel
Estimated delivery time: Unknown
Parcel to the Doorstep
Estimated delivery time: Unknown
Home Delivered Parcel
Estimated delivery time: Unknown