PFC 555 Display Ceiling Kit , Length 550-850mm
PFC 555 Display Ceiling Kit , Length 550-850mm
Manufacturer: VOGEL'S
ID: 7305554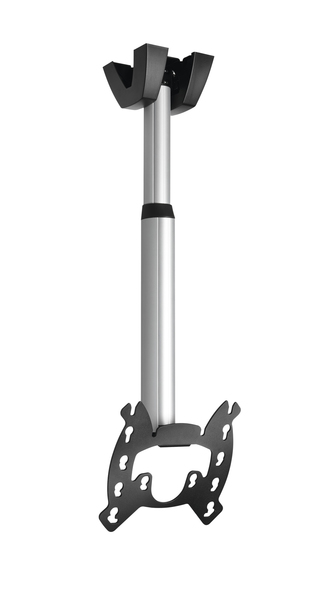 159

,00 €
128

,23 €
Show VAT 0%
Show VAT 24%
Online store:

8 pcs
Estimated delivery: 29.01 - 01.02
Specifications
Description
Store availability
Delivery
Price development
Technical details
Product colour
Black, Silver
Ceiling mounting tube length (min)
55 cm
Ceiling mounting tube length (max)
81 cm
Cord management
Packaging data
Package dimensions (WxDxH)
266 x 570 x 145 mm
Package weight
4.1 kg
Ergonomics
Height adjustment
Tilt angle range
0 - 20°
Packaging content
Manual
Mounting
Maximum weight capacity
15 kg
Panel mounting interface
100 x 100,200 x 200 mm
Minimum screen size compatibility
48.3 cm (19")
Maximum screen size compatibility
106.7 cm (42")
Number of displays supported
1
Minimum VESA mount
100 x 100 mm
Maximum VESA mount
200 x 200 mm
EAN
8712285330742
Source: Icecat.biz
The PFC 555 display ceiling mount includes a ceiling plate for flat and inclined ceilings, a 550-850 mm adjustable extension pole and has a VESA interface up to 200x200 mm.
Key features:

- Cable management
- Ceiling plate suitable for inclined and flat ceilings
- Height adjustable
- Levelling function

The height adjustable display ceiling mount is used when the height of the ceiling is unknown or flexibility is required. This mount offers variable height adjustment from 550 to 850 mm. The CIS® Cable Inlay System runs the full length of the pole and even allows for cable routing after installation. The CIS® offers sufficient space for all cables required .The interface has a levelling and tilting function (incremental 0-10-20°).
Posti Parcel Point
Estimated delivery time: 28.01 - 31.01
Postal Parcel
Estimated delivery time: 29.01 - 01.02
Parcel to the Doorstep
Estimated delivery time: 29.01 - 31.01
Home Delivered Parcel
Estimated delivery time: 29.01 - 31.01